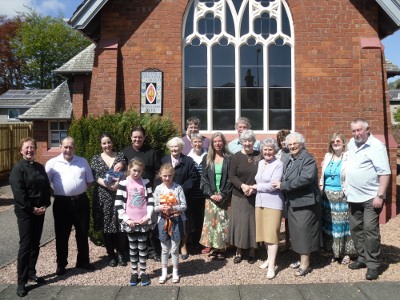 Welcome to the website of our lovely little church in Tayport on the east coast of Scotland. We may be small but our warm fellowship and service reaches out to our local community and far beyond.
An official greeting from Kathy Barrable
Beloved in Christ
This day, the 24th March 2020, I'm formally your Priest-in-Charge, and I am filled with joyful anticipation. God has worked the whole miracle and blessings have flowed, ever since I attended St Margaret's almost two years ago, and returned home saying, 'I love the people and this place - I could live here - even without you precious family!' And when I attended a joint meeting at St Mary's the circle grew wider, and now it is here like a jewel to behold. I promise to serve God, you and the churches to the best of my ability, and with that same faith hope and love which is ours to share and explore.
So, not being able to meet you yet, I plan to phone those who are not on email, and give you my phone number, 07552 503895, so that we can open doors to talk, plan, share and dream. Our chats should be broad..... how you are coping, what you are thinking, any birthdays or special news, questions and answers, and whatever affects our wellbeing. (This morning I have learned about gardening and that it's still too cool to sow seeds yet.) I am sure you will be able to help me in these practical ways - what can I do for you?
I will send you weekly emails, and a Sunday sermon, readings for the week, as well as some interesting connections for you to listen to: I hope you will feed back, as to what is on your mind.
I know a number of us are in the vulnerable group, and to you specially, if there is any help you need, let us know.
I wonder if anyone has contact with an an IT boff, who could possible help us record a sermon, and get us linked somehow.
Perhaps you would think its a good idea to share a communion which I would have, and you be with me in prayer at the same time? Perhaps 10 on a Sunday morning? (I will celebrate the Eucharist then) and join me at 6pm, in evening prayer - said evensong on a Sunday night, and daily morning prayer at 7.30am:
Today's Eucharist readings are Ezekiel 47, 1-9 and 12; Psalm 46; and John 5 1-18. Lovely question Jesus poses: do you WANT to be healed?
Morning and evening prayers are:
Today, Tuesday Jeremiah 16: 10-21; Romans 7; 13-25; John 6: 16-27
Wednesday Jeremiah 17.10:19 -18:12; Romans 8 1-11; John 6: 16-27.
Thursday Jeremiah 22: 13-23. Romans 8: 12-27; John 6: 41-51
Friday Jeremiah 23 1-8; Romans 8:28-39; John 6: 52-59
Saturday Jeremiah 23:9-32; 1 Romans 9: 1-18; John 6: 60-71
I know we have a lot of resources being worked on and shared, and I'll send them to you as they come. With so much available, just select what you would enjoy, keeping it manageable, nourishing and digestible!
Some starters: this is a wonderful time for deepening our prayer life, and whilst there are endless ideas on youtube, one I recommend is 'Prayer: Rowan Williams, (other helpful instructive podcasts like 'Encountering God' and so on...) He is eloquent and keeps his message accessible and practical.
I've recently become more interested in the field of Ecotheology, and discovered Michael Dowd, American minister and author, in his series called, 'Post Doom Conversations', in which he chats to a number of eminent people, and exchanges views. Perhaps you would enjoy those?
And of course, my all time default, Richard Rohr. Any of his books or youtube recordings.
In the mean time, let us love one another as Jesus' disciples, and live joyfully in these time, eve grateful for our blessings.
Peace and grace
Kathy Barrable
120th anniversary of St Margaret's
On Sunday 20th November 2016 St Margaret's Episcopal Church, Tayport, celebrated its 120th anniversary at a special service, led by Rev Jim Thomson, in honour of the church's patron saint, Queen Margaret of Scotland. The congregation of St Margaret's were joined in this celebration by their friends from St Mary's Episcopal Church, Newport-on-Tay. The organist was Iain Flett, and we were also treated to some fine violin music by his daughter Elisabeth.