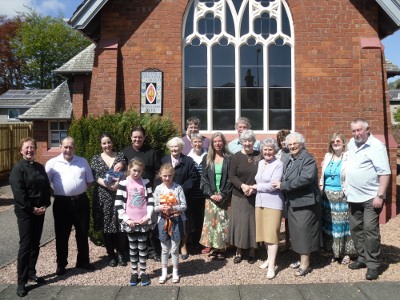 Welcome to the website of our lovely little church in Tayport on the east coast of Scotland. We may be small but our warm fellowship and service reaches out to our local community and far beyond.
Beloved in Christ
Betty took this picture and her metaphor is of the church… 'passed this tree on my walk today and thought it might illustrate the church after lockdown – new growth, but in a different way, on a firm foundation'. It's worth a meditational reflection isn't it. What about sitting quietly, gazing into the picture on your screen?
Tomorrow's collect asks of us
Triune God
Jesus prayed that we might be one;
Help us transcend our differences
And find our unity in Jesus Christ our Lord;
Who lives and reigns with you and the Holy Spirit
One God now and forever.
Amen.
I have been blathering to God about how easily we slide into difference rather than togetherness: always forming an opinion, or even judgement, long before all the facts are known. And how easily we exclude ourselves and another from the grace-filled acceptance of difference or individuality. In looking at my neighbourhood and scanning Dundee from so many angles whilst walking. I realise that each home, each family, each person is created uniquely, according to God's plan! Our Zoom and telephone chats reveal the same. That is the space in which grace can and does co-operate. I ask us each to pray that we hold off judgement and see situations and another as Jesus would, and in that relationship we nourish, support and allow others to become themselves, as Jesus did. Richard Rohr and many others describe this immediate assessment separates us from God, calling it 'dualistic' thinking. As Jesus shows us, we can catch ourselves in the act and simply leave judgement out of our meeting spaces. Indeed, in our relationship with God too – we are one, inseparable from God, made to receive that flow of nurture, and not separate ourselves away from that.
Flowing from this thought, I'm considering the pressing question of what things (and in church) will look like, as we ease out of lockdown. It demands new thinking and movement. We are holding a clergy and lay reader meeting to discuss just that, this Friday. Our vestry secretaries have outlined our activities, in community, and in serving others in need, and therefore, 'different'. I'm so proud that we have established such ties ecumenically, and in helping those in need. It will remain foundational to our outreach and community ministry, even to growing the church.
I hope that God graces us by allowing us to deepen and strengthen what we already have in place, and celebrate the interesting creative ideas coming out of last week's challenge of new ideas and input flowing from the questions posed in the previous email. The Zoom meeting was held without me, as I was entrapped in getting home from Perth and that business I had to attend to. Delightfully, many marvellous ideas were forthcoming and a good time was had by all. Here are the questions again, so that you can give us your input, via email, or even a call if you like:
☆New services and times... midweek? What service? Shared or alternating between the 2 churches? Different venue?
☆ A retreat – a day/weekend.. where?
* Social activities... a walk, a picnic, a tea in a garden, a venue (a garden centre?) Tentsmuir.
???
☆ different groups... either by extending or a new target group... how to contact them.... where are they? Whether you'd like to be involved or pray as we go there....
☆ Any courses or themes you'd like to follow? A bible study? (which book?) A coffee get together? At home, at church, where? When.. morning afternoon evening?
☆New places to advertise
Some new questions for your consideration please:
# what gatherings can we 'do' via Zoom, if it's difficult for us to meet?
# would you like us to develop services online service/sermon/ prayer/workshop/ topic for reflection, so that you could watch them at your convenience, in your own home?
# Several members have said that their families have got them using Zoom for chats, quizzes and even gatherings like birthdays. Would you let me know if you are now on Zoom?

# Others say they now have cellphones – please give me your number, and we could have a wassap chat or video.
The lovely telephone chats I am having with you are wonderful sharing spaces. Though it's sometimes difficult to put face to voice should we meet on a walk, it's a great comfort to me to have that connection and level of easy sharing. Faith circles become contextual if we talk about things topmost in our minds. I am aware that you are all bravely moving along, but also aware that lockdown takes each of us differently, from day to day, and from person to person.
Readings for the week are:
SUNDAY | Acts 1: 6 to 14 | Psalm 68: 1 to 11 | 1 Peter 4: 12 to 145: 6 to 11 | John 17: 1 to 11
MONDAY | Acts 19: 1 to 10 | Psalm 68: 1 to 6 | John 16: 19 to 33
TUESDAY | Acts 20: 17 to 27 | Psalm 68: 7 to 20 | John 17: 1 to 11a
WEDNESDAY | Acts 20: 28 to 38 | Psalm 68: 28 to 35 | John 17: 11b to 19
THURSDAY | Acts 22: 30, 23: 6 to 11 | Psalm 16 | John 17: 20 to 26
FRIDAY | Acts 25: 13 to 21 | Psalm 103: 1 to 2; 19 to 22 | John 21: 15 to 19
SATURDAY | Acts 28: 16 to 20 | Psalm 11 | John 21: 20 to 25
So, prayers for you this week are: that you feel the indwelling presence of God in all you do; that you and your family are safe, loving, accepting and happy; that you witness and share the growth of the people of God in new and exciting ways, and that your world as we move towards Pentecost is as pink as our lovely flowers, darkening to red in this coming week!
Yours in Christ
Kathy
Dear sisters and brothers in Christ
How have you been this week? Many of us are feeling the constraints of another 3 weeks of lockdown, aren't we? It's that longing to get into the familiar structures and routines, as well as having the freedom to make daily choices. Above all, to be with family and friends! There is a niggling feeling raising the question of what is it going to be like, and how misshapen the familiar might become!
So we journey with the early church, in its own adjustments. The early disciples must have experienced the dead ends and re-configuring our world is faced with. And, they must have felt frustration. However, the living memory of Christ was with them, making some sort of sense of the days. They relied more and more on their new group of Christian friends for sustenance. I can identify with all the above… it is our group of believers who are becoming foremost friends, as they offer spiritual comfort, and joy; meaningfulness and assurance. It's not about gathering at church on a Sunday, but more about how God's presence is deepening and suffusing our friendship, with brightness, comfort and direction. This newness in relationship will surely bond us strongly as we journey on.
The disciples were encountering Jesus, and this was their topic – Jesus' appearance and the peace and grace that he alone offers, linking the Jesus they knew with the Jesus of the encounter, and the revelation that Jesus would soon leave them in physical person. It was witnessed by Jesus' new friends and disciples, on a mountaintop. Not any disciples, but his closest Peter, James and John, not on any mountain but probably on Mount Horeb/Sinai, where the Law had been given to Moses. They saw Jesus linked in conversation with the prophets, Jesus talking to God, his father, and Jesus departing.
What would your translation of this be, in your own life right now? Some points for prayer and reflection:
Are we willing to accompany Jesus to the mountain?
What is our own present frame of reference?
What do we feel as Jesus leaves us?
What is this Holy Spirit that will come to us?
Are we still in spiritual lockdown?
Or, are we ready for the newness which the Holy Spirit along brings?-
Shall we enter the next few days pondering our relationship with Jesus, both in the past, and now at a critical faith point? Can and how could we be receptive to a new current of thinking, processing, doing?
We started our Zoom conversation on Wednesday recounting our personal relationship with God, our 'conversion point'. I wonder what yours is? We realised how much our background colours our faith walk, and I could celebrate how distinctively different we are, in both experience and tradition.
Let's use this time to look at our church anew! May I ask you to consider, whilst we remain in quiet lockdown, where God might be nudging our churches?
☆New services and times... midweek? What service? Shared or alternating between the 2 churches? Different venue?
☆ A retreat – a day/weekend.. where?
* Social activities... a walk, a picnic, a tea in a garden, a venue (a garden centre?) Tentsmuir....
???
☆ different groups... either by extending or a new target group... how to contact them.... where are they? Whether you'd like to be involved or pray as we go there....
☆ Any courses or themes you'd like to follow? A bible study? (which book?) A coffee get together? At home, at church, where? When.. morning afternoon evening?
☆New places to advertise
☆ It's a given that the strong ecumenical links are nourishing, and sustained. However if there's a new initiative to add on, great!
☆If you'd like to put your thoughts on an email beforehand, fine, but let's explore now!
READINGS FOR THE WEEK
SUNDAY
COLLECT: O God, you reveal yourself in love;
Pour into our hearts such love towards you
That we, loving you in all things and above all things,
May obtain your promises,
Through Jesus Christ our Lord,
Who lives and reigns with you and the Holy Spirit,
One God, now and ever.
Amen
Acts 17: 22 – 31. Psalm 66: 7 to 19. 1 Peter 3; 13 to 22. John 14: 15 to 21
MONDAY | Acts16: 11 to 15. Psalm 149. John 15: 26 to 16: 4a.
TUESDAY | Acts 16: 16 to 34. Psalm 138. John 16: 4b to 11
WEDNESDAY | Acts 17: 15, 22 to 18: 8. Psalm 148. John 16: 12 to 20
THURSDAY ASCENSION DAY | Acts 1; 1 –to 11. Psalm 47/93. Ephesians 1: 15 to 23. Luke 24: 44 to 53
FRIDAY | Acts 18: 9 to 18. Psalm 47: 1 to 6. John 16: 20 to 24
SATURDAY | Acts 18: 23 to 28. Psalm 47: 1, 2and 7 to 10. John 16; 23b to 28
'See you' tomorrow in St Mary's for Eucharist and at St Margaret's on Thursday at 3pm in St Margaret's, Tayport.
May the spirit of the living Christ be with you!
Kathy
Beloved in Christ
I wonder what consolations the past week has delivered at the doorstep of your heart, this week. From the sound of those in our Zoom discussion, it seems as if most felt that lockdown has been a healthy, life-giving period: yet I know of many who are now steeped in despondency. That is what Ignatius describes as desolation. It is deep and dark and we have all touched that reality at some stage, hopefully not now. Yet, according to those who guide us, desolation, once accepted, is the time for real self understanding and knowledge, a time to re-assess and re- grow, The extremes and way in which we move from one to another, consolation and desolation, might sound like a different turn of phrase but in fact it is Ignatian.
In clergy discussions and in our Wednesday Zoom meetings, I re-introduced Elizabeth Kubler Ross' 5 stages of dying: anger, rejection, bargaining, depression and ultimately, acceptance. Be kind and gentle with yourself as you reflect on where you are on the scale, and where is the grief cycle you have spent time. What I do know is that God is wherever we are, closer than our breath, and seeing us as the 'apple of God's eye' God's Imago Dei. I also know that there are some, maybe many, who we can reach out and be as Christ to them, giving assurance and comfort. Keep some of that for yourself.
It is leaftime early summer and this season is very beautiful, and invitational. Let us grow deeper roots and support those who need, like the beech trees, to cling to sloped ground, and, once rooted, stay stable. Just look at the magnificent rootedness in the attachment!
I will be at St Margaret's tomorrow and love our Eucharist and time together. Soon, soon we shall meet. I almost wept when I saw church in action once again, in Germany.
I'm delighted with the way Zoom is enabling us. St Mary's, set up by Betty, had their first, very satisfying vestry meeting, and the Wednesday group met, discussing Elizabeth Kubler Ross and how that impacts on our status quo. We all desire the group to enlarge, as each of us make a difference to one another. I certainly felt nourished and enriched, having see your faces once again, and learned from your wisdom. I'm aslo delighted that these weekly emails are on our respective websites! Well done Christine and Betty!
Hoping too that you are enjoying the SEC Sunday Eucharists. I thought our Primus was wonderful, talking about his crozier as something to lean on whilst he blathered to others. I just love that picture. I also picked up his Monday brief reflection on Youtube. We have great praying joyful and real leaders!
Tomorrow, Sunday: Acts 7: 55 to 60; psalm 31: 1 to 5 and 17 and 18; 1 Peter 2: 2 to 10; John 14: 1 to 14. See you from St Margaret's and know you are prayed for! Follow the SEC online service at the same time.
A lovely Collect you could pray this week is:
Eternal God, your son Jesus Christ
is the way, the truth ad the life for all creation:
Grant us Grace to walk in his way
Rejoice in his truth, and share his risen life;
who lives and reigns with you and the Holy Spirit,
one God, now and forever.
Amen,
MONDAY | Acts 14: 5 to 18 | Psalm 115:1 to 11 | John 14: 21 to 26
TUESDAY | Acts 14: 19 to 27 | Psalm 145: 10 to 13, 21 | John 14: 27 to 31a
WEDNESDAY | Acts 15: 1 to 6 | Psalm 122 | John 15: 1 to 8
THURSDAY | Acts 15: 7 to 21 | Psalm 96: 1 to 3, 10 to 13 | John 15: 9 to 11
FRIDAY | Acts 15: 22 to 31 | Psalm 57: 6 to 12 | John 15: 12 to 17
SATURDAY | Acts 16: 1 to 10 | Psalm 100 | John 15: 18 to 21
Let's be reminded of Jesus' own words,'No one puts new wine into old wineskins; if they do, the skin will burst, and the wineskins will be ruined. No, they pour new wine into new wineskins, and both are kept in good condition.' Let us help each other to make newness and healthiness!
Grace and peace
Kathy
Beloved in Christ
I've just been chatting to some parishioners, and laughingly commented that the first topic of conversation is the weather, and so it should be, as it is changeable and directly affects us! All in the midst of spring... I'd forgotten how nature's episodes show off the snowdrops, then daffodils, then bluebells, then buttercups, nettles ----- and it's so with us - God is revealing seasonal changes in us, and we are always taken by surprise by the renewing season of feeling change, and warmth in our spirits. We are on our way to Pentecost, aren't we? I pray that your encounters with the resurrected real Jesus are sustaining you, and maybe giving you new insights. St Augustine said that we are spiritual beings on an earthly journey. Let us live into that and be sure that every day we are attending to the spiritual garden God is now giving us time to potter around in!
ZOOM conversations on Wednesday meetings at 8pm are wonderful: last week we looked at how to 'do' church when we come out of lockdown: we started to picture ourselves arriving, listening to scripture and exploring God's new way of being not do-ing in a changed world, preparing for communion and partaking in it, (not to forget taking collection). Next week we return to a more spiritual, reflective focus and discussion. We need that spiritual nourishment. We have decided to open our link to anyone you would recommend joining. Fresh insight is so valuable, and refreshing.
WEBSITES: Christine and Betty have added to our internet pages - do take a look at stmaryschurchnewportontay.org and stmargarettayport.org. It's great that we are sharing photos and these newsletters. It would be marvelous to have some overseas interest in joining Zoom!
SERVICES I hope you are enjoying the Episcopal video of the Eucharist on Sundays at 11 (or you can watch them later at your convenience). By the way a lot of people are enjoying the flexibility of worship, during this lockdown. I continue to celebrate the Eucharist, tomorrow at 11 at St Mary's. You will see some photos of St Margaret's last week. I was very moved to look from the altar at the empty church, and longed for you to take up your usual places! It is a beautiful experience for me, and I am aware of your presence, and pray for each of you. Do join me once again. In the afternoon at 4, I have another dedicated prayer and healing service, and have decided rather to hold that at home, than to transgress the law and go out again in a day. Light your little candle and join me.
READINGS. Are you enjoying the Eucharist readings - I think we should keep to them throughout our green Easter season.
They are
SUNDAY | Acts 2: 42 - 47 | Psalm 23 | 1 Peter 2: 19 - 25 | John 10: 1 - 10
MONDAY | Acts 11;1 - 18 | Psalm 43 | John 10: 22 - 30
TUESDAY | Acts 11; 19 - 26 | Psalm 87 | John 10: 44 - 50
WEDNESDAY | Acts 12: 24 - 13:5a | Psalm 67 | John 12 44 to 50
THURSDAY | Acts 13: 13 - 25 | Psalm 89.1-2,19-26 | John 13:16 - 20
FRIDAY | Acts 13: 26 - 33 | Psalm 2 | John 14: 1 - 7
SATURDAY | Acts 13: 44 - 52 | Psalm 98 | John 14: 7 - 14
FACE MASKS That strange picture shows you how well the little masks I made for you work. I made several rows of reinforcing stitches so that they are more durable. Do use them when you shop!Please pray for Steve and Dorothy Lemon, who showed some cv symptoms and are in self isolation.
ENJOY this time - make it God space
Thoughts and prayers
Kathy
Beloved in Christ
Here are last Sunday's photos of our beautiful churches, as I celebrated and prayed: not only each of you, but in seeking God's assurance and guidance as we seek to be together in the future. We all yearn for that sacred companionship.
Tomorrow I will be celebrating the Eucharist at St Margaret's at 11, and then praying in St Mary's round 4pm for an hour. Do join me in spirit. I also hope you are enjoying the Diocesan online service at 11am, or using some other form of worship of your choice.
Thank you for joining in Zoom on Wednesday, in prayer or in person. Here is the link for you to join up or forward to friends - regardless of creed, religion, or place. We can spread the net wider with the wonders of technology. On reflection I wondered whether this global community is gathering in this new way, right across the globe. Let's do this here! Perhaps your family further afield would like to join us? Next week I am planning a reflection (a personal perspective) to start our discussion and prayer. It was special to meet face to face, and lovely to have the whole Sage family and doggie present on the screen for the hour. (I'll send the invitation to next week's Zoom link separately, forwarded from Niki)
Here are next week's readings
Sunday - Acts 2: 14a, 36 to 41; Psalm 116: 1 to 4, 11 to 18; 1 Peter 1: 17 to 23; Luke 24: 13 to 35
Monday - Acts 6: 8 to 15; Psalm 119: 161 to 168; John 6: 22 to 29
Tuesday - Acts 7: 51 to 8: 1a; Psalm 31 : 1 to 5; John 6: 30 to 35
Wednesday - Acts 8: 1b to 8; Psalm 66: 1 to 6; John 6: 35 to 40
Thursday - Acts 8: 26 to 40; Psalm 66: 7 to 8, 15 to 19; John 6: 44 to 51
Friday - Acts 9: 1 to 20; Psalm 132; John 6: 52 to 59
Saturday - Acts 9: 31 to 42; Psalm 116: 11 to 18; John 6: 60 to 69
Once again, I extend the invitation to stay in touch and phone or email me in any need
Yours, in the risen Lord
Kathy
St Margaret's Easter Card 2020
Beloved in Christ
I am very aware of the vitality of Palm Sunday in our Christian calendar.
I wonder how your Lenten journey has been, with its sudden deviation into new ways of accepting living with social distancing, empty streets and often away from those we love and rely on as integral parts of our lives. Many working people have lost jobs and purpose... many we love are imperiled. We are in grief in its stages of anger, denial, bartering and then, ultimately, acceptance.
In addition there is too much information and inspiration on hand. Technology has leapt into new dimensions- we are intimidated by the panoply of choice.
We have set up this email communication, to re-plant us in our sustaining church community, and to keep together and share.
Lets turn to PALM SUNDAY READINGS
Isaiah 15: 4-9a
Psalm 31:9-18
Philippians 2:5-11
Matthew 26: 11 to 54 (remember the Passion readings?)
*Jesus knew what was to come. We don't!
*Jesus nevertheless knew what he had to do. We do, mostly!
*Jesus knew that God's plan was for him to show the way to salvation. Do we know what God is asking us to do right now? Are we listening?
*Jesus accepted the honour, joy and celebrations,without being swayed by them.. this is discernment in the face of worldly opinions.
*Jesus is the model of humility..... are we?
If we just STAY with these thoughts as we reflect, and steep ourselves in that peace that passes all understanding, then the waves of outer noise and emotion give way to the currents running, just as our River Tay illustrates, under the surface turmoil.
And then, that deep underwater stillness holds us steady.
We are a people of faith, YOU are God's chosen one, with a particular purpose and LOVED. (Ephesians1: 5 although, better, 1.15)
NOW is the time to talk to God about these things, for you are a LOVED new creation (2 Corinthians 5: 17)
Perhaps this is what this Easter is guiding us to...
The collect is:
Eternal father
Your son our saviour fulfilled your will
By taking our nature and giving his life for us.
Help us to follow the example of his humility
By walking I the way of the cross;
through the same Jesus Christ our Lord,
who lives and reigns with you and the Hily Spirit, one God, now and forever. Amen.
(taken from the South African lectionary).
Do have a look at the links I sent you in the last email for 'live' services and do share if you have others... Frank, thank you for your prayers sent!
SUGGESTION
MAKE A PALM CROSS from your garden shrubbery, and pin it to your front door or gate. This is for you, your household and a witness to those walking by. I am going to do this and will send you a pic. Then at first light on Easter Sunday(or after your Saturday evening devotions), I'm stringing lights through them!
Lastly, what about playing and singing and praying a HYMN, like 'Ride on, ride on in majesty' https://youtu.be/MD9rMkIS1yw
Yours in humility and joy.
I will send you some thoughts on holy week soon.
BE BLESSED AS YOU ARE A BLESSING TO OTHERS
Kathy
An official greeting from Kathy Barrable
Beloved in Christ
This day, the 24th March 2020, I'm formally your Priest-in-Charge, and I am filled with joyful anticipation. God has worked the whole miracle and blessings have flowed, ever since I attended St Margaret's almost two years ago, and returned home saying, 'I love the people and this place - I could live here - even without you precious family!' And when I attended a joint meeting at St Mary's the circle grew wider, and now it is here like a jewel to behold. I promise to serve God, you and the churches to the best of my ability, and with that same faith hope and love which is ours to share and explore.
So, not being able to meet you yet, I plan to phone those who are not on email, and give you my phone number, 07552 503895, so that we can open doors to talk, plan, share and dream. Our chats should be broad..... how you are coping, what you are thinking, any birthdays or special news, questions and answers, and whatever affects our wellbeing. (This morning I have learned about gardening and that it's still too cool to sow seeds yet.) I am sure you will be able to help me in these practical ways - what can I do for you?
I will send you weekly emails, and a Sunday sermon, readings for the week, as well as some interesting connections for you to listen to: I hope you will feed back, as to what is on your mind.
I know a number of us are in the vulnerable group, and to you specially, if there is any help you need, let us know.
I wonder if anyone has contact with an an IT boff, who could possible help us record a sermon, and get us linked somehow.
Perhaps you would think its a good idea to share a communion which I would have, and you be with me in prayer at the same time? Perhaps 10 on a Sunday morning? (I will celebrate the Eucharist then) and join me at 6pm, in evening prayer - said evensong on a Sunday night, and daily morning prayer at 7.30am:
Today's Eucharist readings are Ezekiel 47, 1-9 and 12; Psalm 46; and John 5 1-18. Lovely question Jesus poses: do you WANT to be healed?
Morning and evening prayers are:
Today, Tuesday Jeremiah 16: 10-21; Romans 7; 13-25; John 6: 16-27
Wednesday Jeremiah 17.10:19 -18:12; Romans 8 1-11; John 6: 16-27.
Thursday Jeremiah 22: 13-23. Romans 8: 12-27; John 6: 41-51
Friday Jeremiah 23 1-8; Romans 8:28-39; John 6: 52-59
Saturday Jeremiah 23:9-32; 1 Romans 9: 1-18; John 6: 60-71
I know we have a lot of resources being worked on and shared, and I'll send them to you as they come. With so much available, just select what you would enjoy, keeping it manageable, nourishing and digestible!
Some starters: this is a wonderful time for deepening our prayer life, and whilst there are endless ideas on youtube, one I recommend is 'Prayer: Rowan Williams, (other helpful instructive podcasts like 'Encountering God' and so on...) He is eloquent and keeps his message accessible and practical.
I've recently become more interested in the field of Ecotheology, and discovered Michael Dowd, American minister and author, in his series called, 'Post Doom Conversations', in which he chats to a number of eminent people, and exchanges views. Perhaps you would enjoy those?
And of course, my all time default, Richard Rohr. Any of his books or youtube recordings.
In the mean time, let us love one another as Jesus' disciples, and live joyfully in these time, eve grateful for our blessings.
Peace and grace
Kathy Barrable
120th anniversary of St Margaret's
On Sunday 20th November 2016 St Margaret's Episcopal Church, Tayport, celebrated its 120th anniversary at a special service, led by Rev Jim Thomson, in honour of the church's patron saint, Queen Margaret of Scotland. The congregation of St Margaret's were joined in this celebration by their friends from St Mary's Episcopal Church, Newport-on-Tay. The organist was Iain Flett, and we were also treated to some fine violin music by his daughter Elisabeth.