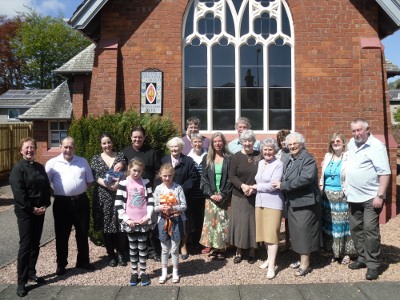 Welcome to the website of our lovely little church in Tayport on the east coast of Scotland. We may be small but our warm fellowship and service reaches out to our local community and far beyond.
e-newsletter Christ the King. November 18
22 November Christ the King
Dear friends
We have reached the end of the Christian year. Next week, we start a new 'book', a new phase, a new mood, as we prepare for Jesus to be birthed into this world and our hearts, anew in 2020.
We can look forward to some changes, and a freshness, lights, cosiness at home and a refuge within our sacred space, to see how far we have come. We will be able to look back on this time with its embedded challenge, loss and loneliness. Each of us have changed, perhaps even in our approach to the gospel. I hope you will join me in attending to our spiritual welfare as we journey together.
It is the Feast of Christ the King on Sunday: and a nudge for us to understand that the kingship Jesus holds us in non-material values and investments. In the Gospel reading, he recognises us in our actions towards his people who are in need, in our response to meeting their needs with alacrity, immediacy and love. Thus, in each of us, Christ is resident, waiting to serve and be served, to care for and be cared for and so on. To be the hand of Christ in this world, is to accept our sacred duty, as servant to the needs of others. Jesus did it all the time and will reveal to us where our ministry lies, in the spontaneous minute, or as a longer-term calling. As a body of his people, let us sharpen that awareness of serving others.
Readings for the day are as follows
Ezekiel 34: 11 – 16
Psalm 100
Ephesians 1: 15 – 23
Matthew 25: 31 - 46
Collect
Almighty and everlasting God,
Whose will it is to restore all things
In the kingdom of your well-beloved Son;
Mercifully grant
That peoples of the earth,
now divided and enslaved by son,
may be freed ad brought together
under his most gracious rule;
through the same Jesus Christ, our Lord,
who lives and reigns with you,
in the unity of the Holy Spirit,
one God, world without end.
We are adventuring as a Christian group! Wednesday's Zoom meeting was very insightful as Revd Gerry Dillon focussed on some of the lesser known Holocaust 'martyrs'. They were in keeping with the many unsung, oft unrecorded heroes of that grim space, as they stood together, held each other, and died together. There were many who stood up to be counted in heroically depending and caring for their fellow internees. Grizzly proof there is of a nation driven by power and dominance. Perhaps there are areas of our lives which we should study, to see how we could detect and prevent wrongdoing against fellow human beings, in small or great ways.
What I do know is that the church must voice its opinions as much as actively seek to discern a course of action against any infringement of human dignity.
This Wednesday at 8pm, on Zoom, we take a look at Mary Slessor, Dundonian missionary to Nigeria, whose fearlessness, God-driven incentive to selfless care for whomsoever she ministered, is quite startling. Join us to listen to Iain Flett, who has long held a passion for the past heroes in the area, Mary Slessor being pre-eminent in his opinion! Send your name to me if it your first time to join us, and any friends you might invite.
Next week we start Advent 1, with a candle lit to look at the theme LOVE to open little windows of love for ourselves and others
Advent 2 will be shared with the Bishop, the theme being HOPE, in both St Margaret's and St Mary's.
I attach a flyer to publicise our new venture, on Tuesday evening Zoom meetings on the 12 January. 'Join the Conversation' may be extended to anyone, anywhere. Please forward the flyer and let me know if you will join us please!
May you feel the presence of God in your moments of gladness and sadness
Kathy Barrable
e-newsletter St Margaret of Scotland. 15 November
Beloved in Christ
A quick reminder: there is NO SERVICE AT ST MARY'S ON SUNDAY. Do join us at 9.30 IN TAYPORT, TO CELEBRATE THE LIFE AND EXAMPLE OF ST MARGARET OF SCOTLAND
We have a model life to inspire us – that of St Margaret of Scotland. I guess each of us have a favourite story about her, indeed one which often uplifts or comforts us. Mine is when she broke into the King's treasury to get money for the poor – not to 'give' it, but rather to make the food, and hand it to them. Hers was the action of gift, in the tradition in which she was familiar and to which she was accustomed. There is a vivid mind picture of the act of reaching out to nourish the needy – her touch meeting the receiver's touch. It is in touching that we were brought into the world, sharing ourselves with others, and in so doing, we become the life-givers to others. When we are in need, hungry, I would like to feel the touch of another to nourish me according to my need. Consider Jesus' comfort in Matthew 25: 35 demonstrating his loving attentiveness to our needs, and in demonstrating how we should care for others. He touched so many people, with his hands healing or comforting, in breaking and sharing bread, to those who followed, and to you and me, at every Eucharist, every Sunday.
Lockdown has minimised touch, hasn't it? We feel it keenly. Please be assured that we pray for YOU, and that our voice touches you as yours touches me. We all stay cheery, keep in touch, venture out to exercise and possibly attend church, celebrate that there will be a vaccine soon, but commiserate that right now we are in Phase 3 of lockdown. We know that God guides, cares, comforts, inspires us - and that the future will allow us to return to being together.
Know too, I and others in our churches are there to accompany you, so do not hesitate to call me please.
You will love the readings for the Festival of St Margaret:
READINGS
Proverbs 31: 10 – 25
Psalm 112
2 Timothy 1: 1 – 7
Luke 11: 33 – 36
COLLECT
Almighty God who called your servant Margaret to an earthly throne
That she might advance your heavenly kingdom,
And endued her with zeal for your Church
And charity towards your people;
Mercifully grant that we, who commemorate her example,
May be faithful in good world
And attain the company of your saints;
Through Jesus Christ our Lord
Who lives with you
In the unity of the Holy Spirit,
One God, world without end
Here is a translation of the psalm from Eugene Petersen's 'The Message':
'1. Halleluiah! Blessed man, blessed woman, who fear God, who cherish and relish God's commandments
2. Their children robust on the earth, and the homes of the upright – how blessed!
3. Their houses brim with wealth and a generosity that never runs dry.
4. Sunrise breaks through the darkness for good people of God's grace and mercy and justice!
5. The good person is generous and lends lavishly;
6. No shuffling or stumbling around for this one, But a sterling and solid reputation.
7. Unphased by rumour and gossip, heart ready, and trusting in God,
7. Spirit form, unperturbed, Ever blessed, relaxed among enemies,
9. They lavish gifts on the poor – A generosity that goes on, and on, and on. An honoured life! A beautiful life!
10. Someone wicked takes one look and rages, Blusters away but ends up speechless. There's nothing to the dreams of the wicked, nothing!'
Zoom this next week, 18 November, starts at 7.30, The church's response to the Holocaust' led by Revd Gerry Dillon, Glenrothes. If you will be attending, please email me your name, and I will send you the link. You are welcome to invite anyone you like, as long as I can book their place
Under separate cover, I will attach some lovely photos of Remembrance Sunday for you to enjoy.
God bless and may you feel the touch of the palm of God's hand that holds you.
Kathy Barrable
e-newsletter Remembrance Sunday and week to come
Beloved in Christ
I trust you are all well and that the restrictions are not curbing your life too much – I am so impressed by our wonderful adaptability in these times, and that we manage to meet together at church and at Manna or the Larick Centre. For those of you shielding at home, I hope to speak to you soon: hopefully this newsletter will keep us bound as a body.
We have been busily planning the Christmas season, and I include it as an attachment.
This Sunday is Remembrance Sunday. For the first time, we will not be gathering as Tayport and Newport community to lay wreaths and pray together, ecumenically. However, if you do walk by the memorials, you will see ours there by noon on Sunday. Thank you Alan for laying the Tayport one, and Betty and I will lay the one in Newport. We will gather all into prayers during the services. Margaret Gray will preach the sermon.
READINGS FOR THE DAY ARE:
Joshua 24: 1-3a, 14 – 25
Psalm 78: 1-7
1 Thessalonians 4: 13 – 18
Matthew 25: 1, and 13 – 18
Next Sunday, the 15th, is the Feast of St Margaret of Scotland. There will be one service only, in Tayport, at 9.30am. We do hope you can join together there. Please let us know numbers so we can arrange seating appropriately.
We are inviting you to some Zoom video sessions on Wednesday evenings:
The link is https://us04web.zoom.us/j/5882177697?pwd=LzJSOG5wZlVrN3YxWjJqR0NlT3d0UT09
All you do is click on the link - if in any doubt please try it out and ask Mike Betty Frank or me!
This week,Wednesday 11th, Revd Dr Amos Chewachong, pastor at the Church of Scotland in Newport will give us his views on world churches today: it is his field of interest and his doctorate at Edinburgh University is on this theme.
At 7.30, on the 18 November, Revd Gerry Dillon will speak on 'The Churches Response to the Holocaust'. The Diocese has invited us to attend on a different Zoom link: his talk will begin at 7.30. It will take about 45 minutes and there will be an opportunity for questions at the end. I will send the link next week.
I have also been in conversation with Iain Flett, whose passion is Mary Slessor - he has agreed to talk to us about her on Zoom on the 25th November.
These topics will be of interest to others so we can send them links to join us - as far afield as overseas perhaps? Please think about this!
Three of us have attended a course called, 'Our Digital church', and it is inspiring to learn how much one can do, using social media and websites to promote church to notify, share items and news of topical interest. Perhaps lockdown has made all of us more techno - aware, and to use tools like Zoom keep us in vital contact, keep us together as a group with Christ-interest, and allow us to share information and see each other. Could you critically look at our websites and consider what further information in what lay-out would add to its attractiveness?
God bless in all you do
Kathy Barrable
e-news All Souls and All Saints
Beloved in Christ
I can understand how the Celtic god of death, Samhain, saw how the season of winter represented cold, darkness and death. I drove in the countryside near Kings Kettle at 4am and thought of our ancient, fused traditions, particularly, the way the church combined many festivals and days of recollection with ancient pagan observances. The term used for this 'absorbtion' is 'inculturation' and many coutries are striving to re-establish links, oft-lost, with the forebears of the lands they have come to call their own.
However, as people of the light, I, rather, chose to celebrate my bubble of dryness and protection and communed with God, and those saints who have shaped and influenced my life. I gave thanks for the confidence they gave, give and will continue to give me. Today I am naming so many people who are now in the ranks of the white-robed worshippers mentioned in the Revelation reading. Included among those, there are some who in my opinion might still be working on their entry into holiness, and I pray for them too. It is impossible for us to condemn others, as Jesus frequently tells us: our tradition does not adopt the theology of purgatory, so I pray for those others with ongoing work in the next world too. This is the special time, in the fellowship of the Christian church, to remember them. Should you not be able to join us at church on Sunday, pray with us at home, or email me names of the faithful departed you would like us to pray for.
Though it is cold and dark, we are not beset by woes and curses. The Matthew readings speaks clearly of the blessings we do not fit the mould of the western perception of 'hero'. The non-material values of our Saviour Jesus Christ are the ones we strive for, and for some of us, it is a contrary cost contrary to the ways of the world. It is the joy we share in worship, in togetherness, in being taught by Christ, that sustains us.
No person, no Covid, no season, no grief or misfortune can separate us from the love of God. Shall we help each other to keep courage and to run the race with a goal in mind – to witness, and contribute to an increase of faith, hope and love, together?
I continue to visit the Larick Centre on Thursdays, and Manna on Fridays at 1pm. Should the time come where there is no one there from church, I shall still enjoy others and use it as a time for praying for each of you. On Friday it was fun to meet with a friend from outside church, and to have a chat across tables to others from church. Do try to make a date and come, if you feel comfortable to do so.
Zoom continues on Wednesday evenings at 8pm. You are welcome to join us, or send the link to anyone, anywhere. Last Wednesday was a free-range chat and we shared some interesting views on lockdown and the status quo, as well as re-told some delightful earliest childhood memories. At some stages, we intend to invite newcomers to lead discussion on a topic.
Regarding Alpha, we are opening into ecumenical meaningful discussions as we plan for January. We are thinking it should extend beyond the Alpha programme, into other burning questions Christians in our towns or further afield, would like to chat about. More news to come.
Bishop Ian Paton is visiting us on the 6 December (apologies that I got ahead of myself last week and said November!) and it will be a wonderful chance to hear his reassuring voice and message. I will request his sermon in writing for those of us who cannot attend).
Readings for this Sunday are:
Rev 7: 9 – 17
1 John 3: 1-3
Psalm 34: 1 – 10
Matthew 5: 1 – 12
I include the Collects for All Souls and All Saints for you:
ALL SOULS
Father of all,
We pray for those we love but see no longer:
Grant them your peace,
Let light perpetual shine upon them,
And in your loving wisdom and almighty power
Work in the good purpose of your perfect will;
Through Jesus Christ our Lord,
Who lives and reigns with you
In the unity of the Holy Spirit,
One God, world without end.
ALL SAINTS
Almighty God
You have knit together your elect in one communion
In the mystical body of your son\Jesus Christ our Lord grant that we may attain, with all your saints
The whole measure of the fullness of Christ;
Who lives and reigns with you
In the unity of the Holy Spirit,
One God, world without end.
God bless in all you do
Kathy Barrable
e-news Pentecost 21 , 24 October 2020
Greetings in the name of the Lord Jesus Christ!
I trust the week has been good and full of your gratitude for all God gives us!
For me, it has been one fill of tedious administration and consideration, but perhaps that's what God needed to get order and understanding into my life and its affairs. In the pockets of sunshine, rain and mistiness, I have enjoyed the bright shiny browns and yellows underfoot, and the emerging shapes of glorious dark tree trunks and branches stretching up to heaven. I guess a number of you have had 'flu jabs' so there is a healthy winter to look forward to.
We continue to meet at the Larick Centre on Thursdays, and Manna on Fridays, at 1pm. DO continue to join us there at your own table, with family, or a friend, keeping to the 2 households per table only. I appreciate that those of you who are shielding will not be joining anyone in a public space! Know that we speak of you and hold you in prayer.
Zoom on Wednesday was stimulating and enjoyable and I believe, extending our spirituality as we share views. We looked at 'Praying with Images' which ex-nun Meinrad Craighead used in her paintings of animals and their God-given spirits. DO look her up on youtube if you would like to.
Both churches have their monthly newsletters out so you can plan your November calendar.
Have you had a look at the church website yet? Please let us have your feedback as to ways of improving it, or tell us what you like about it!
Next week is All Saints Day, and if you would like to add loved ones' years' mind, the lists are in church on Sunday, or let us have them by e-mail please.
Being the last Sunday of the month, the monthly newsletter will be in church, for collection!
Readings for this Sunday are
Leviticus 19: 1-2, 15-18
Psalm 1
1 Thessalonians2: 18
Matthew 22: 34 – 46
I will use the analogy of the three legs of the 'pot' or cauldron on which our faith rests: Scripture, Reason and Tradition. We have was long history of development in the Episcopal church, as well as many which should be re-visited and questioned. What makes us so distinctive as 'Piscies'? What distinguishes us from other faith walks and what personal adjustments should we make. I added a fourth leg: EXPERIENCE. Are we a people of prayer and deepest joy and contentment? Do we really know and trust that God IS in charge of our lives and wants us to be the best we possibly can be? Take courage and rest assured!
The Alpha course will be deferred till mid- January for two reasons: we have a busy and exciting couple of months till Christmas, and secondly, as we need to do more planning and marketing, but if you are ready to say you will join us please let me know now!
Enjoy the extra hour before dawn and earlier dusk! Be cosy and safe and full of cheer! All is well!
Grace and peace
Kathy Barrable
e-news 18 October Pentecost 20
Greetings dear brothers and sisters in Christ
It is already 20 weeks since Pentecost was celebrated - the Holy Spirit has been working and infusing each of us with great and small matters, not least of which has been 'getting on' with lockdown. We have been masters of adaptability, our conversations have become more significant, and we are changing and no doubt being equipped to deal with what is to come!
One thing is a definite – information technology is to the fore, and most of us are learning new ways of communicating and maintaining contact with each other and with our varied interest groups. This week my internet connection has been intermittent, and that has caused frustration(hence the earliness of this communication to you). I long for the days when I can plan a day of certain certainties, yet I think they might never come under my control!
However the past week has allowed us to flesh out our activities till year-end, and include the great festivals and days to come!
I would like to share the November calendar with you, and then the December one in a couple of weeks' time
November 1 All Saints and All Souls (lists for the faithful departed will be out at church on Sunday)
November 8 Remembrance Sunday (wear your poppies!) (We hope that our ecumenical walk to the monuments will take place but that is in other hands right now)
November 15 St Margaret of Scotland Feast day in Tayport at 9.30. Let us make a joyful gathering together!
November 22 Christ the King. It will be a wondrous time to look at the risen and ascended ever-present Christ!
November 29 Advent 1. We mark a change in church season and begin the pilgrimage to Bethlehem.
This week's readings are Isaiah 45: 1 to 7; Psalm 96: 1-9; 1 Thessalonians1: 1 to 10; Matthew 22: 34 to 46
We continue with the focus of Jesus' teachings and integrate this with the second part of Deutero-Isaiah, and look at how Thessalonikan Christians are building their church through loving one another. All this is presented to us for our reflection on how we are in today's context.
This past week has been fun and a few of us have greeted in the Larick Centre coffee shop on Thursday at 1; and at Manna coffee shop on Friday at 1. We look forward to seeing you and a friend from a second household there next week! Thank you for letting me know how you are doing and if you are coming for coffee.
Alpha plans and preparations are progressing and more news of that as time goes by.
Let us pray for our sister churches as they connect in Christ.
God bless you in special ways, so that we feel gratitude for all that is happening in and around us.
Grace and peace
Kathy Barrable
e-news 11 October Pentecost 19
Beloved in Christ
As this is typed, I have just come out of a 2-hour Zoom meeting with 32 others, entitled, 'Our Digital church'. It's one of those times when I sit looking at a massive mountain, comprised of technology available and accessible, to share information and be invitational to the world! I know we have to get to the top, or at least, start the climb. How, is the issue? I am well aware that you are each working very hard for, and loving church, and that moving into the future will require yet more effort and time. Let's start another leg of the journey by faith and foot!
When last did you look at our church website? Could you, and give us your views as to how useful they are, what you'd suggest could be updated or changed, and what you like most? \in what way could you help us to get it user-friendly and accessible?
Psalm 23, (in this Sunday's readings) is pertinent: it shows us how to put each foot into the next spot, no matter how tough the terrain. When I have had to climb a mountain, metaphorically, that is, to move into a new space or place, I take heed of the psalmist's testimony and direction. In lyrical terms, David walks us through his own spiritual, physical reflection and journey, and in so doing, invites us to pick up our burden, and follow God. We do not know the final destination, apart from the assurance that it will give us peace and 'I shall dwell in the house of the Lord forever!
Psalm 23 calms the soul. It is beautiful to anticipate a service when the hymns undergird the themes of God's provision and protection, giving us assurance. Covid and sustained lockdown is today's valley of the shadow of death. The psalmist urges us to put our trust in God, as the need for a journey is upon us, as is the acceptance that we lie by the roadside desiring attention, help, knowing that the good Samaritan (Luke 10: 25 to 37) will notice and care for us, rescue us, and take us to a safe space for healing. We are supported along the way, to return to a season of fresh and new green pastures.
Psalm 23 calms the soul. It is beautiful to anticipate a service when the hymns undergird the themes of God's provision and protection, giving us assurance.
READINGS
Isaiah 25: 1 – 9; Psalm 23; Philippians 4: 1-9; Matthew 22; 1 -14
HYMNS
All my hope on God is founded
SUNG PSALM 23
The God of love my shepherd is
Be still my soul
Immortal, invisible, God only wise
We have been pondering how to make up for our after-Sunday service chat over a cup of coffee, and here is our idea! It is a cuppa, at a safe venue, at your own table with your friend, during the week, in our home town…….
1. JOIN US FOR A WEEK-TIME COFFEE AND CHAT.
We can meet at tables within the rule of 6 maximum (no more than 2 households). Why not bring a friend, not necessarily from church, or even our congregation! We can greet each other, and share space in togetherness!
We plan to do this on a rolling weekly basis!
Thursday afternoon from 1pm at the Larick centre, Tayport
and/or
Friday afternoon from 1pm, at Manna Coffee shop, Newport on Tay
I will be there, with a friend, to host you. No pre-booking is allowed, so let us hope that we can all fit in. You will pay for whatever you would like to order.
Feel free to email if you will be coming – it will not be taken as a booking, but good to know if you can come!
Really look forward to seeing you there next week!
2. ALPHA COURSE IN NOVEMBER
Scottish interfaith week is from the 8 to 15 November, and we hope to gather our faith communities together, sharing and talking. We are planning an ecumenical Alpha on Zoom course!
Thus far, the Church of Scotland, in Newport, with Minister Dr Amos Chewatong, and in Tayport, MoragAnne Elder-Flett are delighted to bless this and give it full support. There are a few others who have offered to help and support too.
We are praying that each congregation will participate fully.
More details will follow but please pray into this and give us your support as well. We are planning for a weekly Zoom video at 7 to 8 on a Tuesday evening. If you would like to sip coffee or have your meal during the half-hour video, do relax into that!
We suggest that we start in mid-November, carry through till mid-December and resume mid-January
Lots on the go together!
Blessings
Kathy Barrable
e-newsletter October 4
Dear brothers and sisters in Chist
Last week's Harvest Festival was lovely, and thank you for your kind donations. Those in need, through various food banks, will be most grateful. It was a wonderful privilege to enter St Margaret's and St Mary's and witness the indoor beauty of the changing season in flowers, and appreciate your gifting to the church!
What weather! On one of my sorties this morning, I encountered people actually apologising for the weather, saying, 'It's not usually like this….' However, thanks to my little dog, and my son, and grandchildren, the weather is undampening to my enthusiasm! It is glorious in its own way, with rain noisily pattering on the newly-fallen leaves, brown, and glistening freshly from the goldening, yellowing rustling treetops.
I am sure we would agree that a Christian can never complain about being confined to an increase in indoor cosiness, as there is an invitation to deepen our faith through reading, reflection and personal prayer. We have been following themes of self-reflection, particularly of our past, re-visiting phases or incidents which might provoke joy, poignancy or maybe helplessness and a sense of loss. It is cathartic to feel the crucifixion of the unwanted traps in memory, and to arise from their tomb, feeling more free and light and positive. For Christ comes to set the prisoner free, and make our burden light.
Herewith the video we used last week, on our Wednesday Zoom chat. You can pick it up and watch the YouTube video, entitled, 'Coronavirus: God can you hear us?' by Nicky Gumbel – HTB at home (HTB stands for Holy Trinity, Anglican church, Brompton. London). It is both interesting and provocative in terms of our prayer life which sometimes becomes stale, or we feel, even irrelevant in tough times. Nick Gumble and his team have transformed countless people through Alpha courses (videos on Questions on Life, and then allowing time for group discussion.) I know how much congregations enjoy the course, as I have been part of Alpha for many a year. I am finding that other denominations locally in Tayport and Newport would like the idea of joining an Alpha group together with us in the near future. (It works very well on Zoom, as we can all watch a theme video, then break into a little group, then come together to chat afterwards! The great thing about it is that you can watch the video on YouTube should you miss a session!)
I do commend those of you who have taken the leap into using online videoing such as Zoom, wassap, Facebook and so on: our children and grandchildren, every business and even shopping is moving that way. If you would like us to help you with getting connected to join us, we can certainly help you.
The readings today are not altogether comfortable, as we are urged to reflect on how we are behaving in our world, often turning to material comforts before the comfort God alone can give us when things are not going well – perhaps at this very moment locked into Covid. There are strong images of wine farming, from the perspective of tenants, owners, workers…. bearers of cultivating a culture from cherished old stock, to bear fruit in a new land. Paul gives a striking testimony on his Christian value system and code of conduct.
Readings for this week are:
Isaiah 5: 1 – 7
Psalm 80: 7 – 14
Philippians3: 4b – 14
Matthew 21: 33 – 46
God bless and look forward to seeing you soon!
Kathy Barrable
e-newsletter 27 September. Pentecost 17
Beloved in Christ
This week we break away from the teachings of the Pentecost season, to celebrate harvest!
It is necessary to halt our life journey to gather to say thank you to God for the abundance of the earth. We have moved so far from co-existence and co-operation between nature and humankind, yet this vulnerable living earth has continued to hold us, keep us and sustain us. After just passing the autumn equinox on the 22nd, Tuesday, we look on a wonderful harvest. I have never lived so close to the farmland before, its produce growing alongside our paths, the harvest, the bales of hay, fresh ploughing and seeding. Thank you Lord for awakening us to your bounty, the changes, as a good season has yielded its harvest, and that there are good prospects for the next season.
Of course, our liturgical colours echo this green season, and we have much for which to be thankful and grateful. In our prayers, let us enumerate our blessings, and in community for their faithfulness and positivity. I endeavour to, like you, keep close to all the churches in our two villages, and share the desire to live together, and explore ways of deepening our bonds. I ask for your prayers please. I am delighted that St Mary's and St Margaret's cross-pollinate so much and within their respective communities, sharing our spiritual harvest with others.
I urge you to look at your own harvest in this past year. How have you changed, allowed God to breath newly into you, heal you, comfort you, restore you? It is my first harvest here, and it was hard not to seek to be part of the flower arrangers and helpers. I am trying to 'be' not 'do'! Tomorrow, I will share and I feel excited at the prospect. Harvest time, in the midst of bounty and beauty, is a good time to consider your life, and what your lifetime harvest brings in, how you are serving others as part of your covenant with God, as his chosen one in a chosen community, and of faith. It has been a time of poignant memory for me, and bit by bit each part has been a coloured growth of my own harvest. A lifetime is a short season, and you, I and God have more seasons to share.
Tomorrow awaits and we will take lots of pictures to share with you, if you cannot be at church.
Regarding church matters, I attach the latest in the guidelines for Covid safety. I think we are doing our best to keep safe, but do read, especially the part about sanitising before and after taking communion. I see a number of us are bringing our own sanitisers which is easier than using the positioned ones in church.
Here are the readings:
READINGS
Deuteronomy 8: 7 - 18
Psalm 60
2 Corinthians 9: 6 - 15
Luke 12: 16 – 30
And now, some poetry, to let you adventure into a new or familiar time, and glorify God! They are selected by Ann Bridges, for your pleasure. You might like to use some of the words for your prayer:
1. A Thanksgiving to God
Tis Thou that crownst my glittering hearth
With guiltless mirth;
And givst me wassail-bowls to drink,
Spiced to the brink.
Lord, tis Thy plenty-dropping hand
That feeds my land;
And givst me, for my bushel sown,
Twice ten for one;
Thou makst my teeming hen to lay
Her egg each day;
Besides my healthful ewes to bear
Me twins each year;
The while the conduits of my kine
Run cream, for wine.
All these, and better, Thou dost send
Me, to this end,
That I should render, for my part,
A thankful heart,
Which, fired with incense, I resign,
As wholly Thine;
But the acceptance, that must be,
My Christ, by Thee.
Robert Herrick
2. The Harvest
Sun on the mountain,
Shade in the valley,
Sun, like a gold sword
Plucked from the scabbard,
Striking the wheat-fields,
Splendid and lusty,
Close-standing, full-headed,
Toppling with plenty.
Shade, like a shield,
Kindly and ample,
Sweeping the wheat-fields
Darkening and tossing.
Acres of gold wheat
Stir in the sunshine,
Rounding the hill-top,
Crested with plenty,
Filling the valley,
Brim with abundance,
Laden with odours
Of peace and of plenty,
Soft comes the wind
From the ranks of the wheat-field,
Bearing a promise
Of harvest and sickle-time,
And wagons of bread,
Slow-laden and lumbering
Through the gateways of cities.
Duncan Campbell Scott
3. Tis sweet, when fields are ringing
With the merry crickets singing,
Oft to mark with curious eye
If the vine-trees time be nigh:
Here is now the fruit whose birth
Cost some throes to Mother Earth.
Sweet it is, too, to be telling,
How the luscious figs are swelling;
Then to riot without measure
In the rich, nectareous treasure,
While our grateful voices chime,--
Happy season! blessed time.
Aristophanes
Thank you to each of you for your non-perishables, for your steadfastness, the time preparing the loveliness, and for a beautiful leaflet!
God bless! Be thankful! Keep joyful and share, so that others might benefit from your kindness.
Kathy Barrable
Message on behalf of the College of Bishops 24.09.20
Revised Pastoral Guidelines for Phase 3
Pentecost 15. e-letter 13 September
Sisters and brothers in Christ
I trust this week has been a good one for you? I have done a little visiting and phoning, and it seems as if the Covid implications are bothering many of us, as it breaks out further and the way in which the government sees fit to isolate areas and also impose restrictions. We are perhaps forced to accept that it is here as part of our lives and that the future will be enmeshed in its implications.
However, we are satisfied that our churches are doing whatever is necessary to safeguard us appropriately, and thank you for being so vigilant and aware.
Be assured that you are being prayed for, and that I am willing to come to you whenever you wish.
I attach two items of interest
1. Last Sunday's sermon, e-news and Zoom meeting included references to icons, and here is a video of a service in which icons are used as a refreshing way of praying. https://us02web.zoom.us/j/83445702981?pwd=YnE2c2xxREcrVm80bUhhSkZKN04rQT09
This classical Greek Orthodox icon of the Trinity invites the viewer, YOU, to take a seat and join them, spending time considering how you are part of the Divine Dance (the title Richard Rohr gives to his book).
2. The second attachment includes a structure of us, as church, within the circles of Area Council, and of the Diocese. It is good to see how all the functioning parts of our church interrelate: buildings, investments, monies, and mission fit into the greater whole, also to know that the Bishop and Diocese are there as an integral part of our good functioning and spiritual wellbeing.
Zoom seems to be part of our lives now and I am sure it or other ways of videoconferencing will become permanent parts of our engagements; sharing and mulling over initiatives, decision-making and in healthy exchange. I urge you to find a way of using Zoom: we are here to help and encourage us to do so.
This week I am including two more regular items:
1. Hymns. Our tradition is so very intertwined with music and words which are so meaningful to us as Episcopalians, with a very distinctive repertoire. I have included the first line so that you can look them up on youtube, and sing along, or even use the lyrics as prayers. As you know our congregations are taking all books used at church, home with them. Should you like a hymn book, do ask us and we can bring one to you, or arrange to fetch a copy from church.
HYMNS: 198. Ye holy angels bright....
#114 I bind myself today..... or 72 Bind us together, Lord....
115. Dear Lord and father of mankind...
169 The church of God a kingdom is.
2. The Collect. It is comforting to be praying with Episcopalians world wide on the theme is of the collects and be aware of the way they surround the readings of the day in prayer.
COLLECT: Guard your church O Lord.
With your perpetual mercy: and since without your aid we lose our way,
Draw us always, by your help, away from harm,
And steer us towards salvation;
Through Jesus Christ our Lord, who lives with you,
In the unity of the Holy Spirit,
Amen
3. READINGS Genesis 50: 15 – 21. Psalm 103: 8 – 13. Romans 14: 1 – 12. Matthew 18: 21 – 35
The theme is around forgiveness, and we will look at the ongoing need for personal, societal, historical and cultural awareness of this ongoing need. Perhaps you would like to look at some wondrous examples of the freedom which emanates from, and continues throughout our lives through forgiveness. I share some other more recent examples of peoples who have exemplified this spirit: Etty Hillesum,Thich Nhat Hanh, Desmond Tutu. Should you wish to look up these people, you will enter a most inspiring and comforting world seen through another's eyes.
This is, with so many activities curtailed, a perfect time for deeper reflection.
Once again, your sharing of your experience will be wonderful, whether as we worship together, visit, or use the tools of writing.
God bless in all you do. May your life be tinged with the deepening colours nature is revealing in this end of summer and early autumn season.
Kathy Barrable
e-news Pentecost 13. 6 September
Beloved in Christ
We have journeyed through 13 weeks of the 'green' season of Pentecost. It is a wonderful phase of learning, of studying scripture and seeing the radical new life Jesus offers us. Green represents growth, and each of us have grown wiser and stronger in our faith, within the circle of loving ecclesia, the body of the church. Whether you have been following us from home or within church, we hope you have felt included in our journey.
Lockdown, even further back,from its inception on March 23rd brought on new, alarming and uncomfortable changes in our lives, which in turn have forced every one of us to re-evaluate and – appreciate simple goodness at home.
On the 27th we will celebrate Harvest Festival, and this might be an outward and visible sign of an inner and invisible journey in which we now harvest the fruits of our personal season of growth. One of the loveliest memories of harvest is that it is gathered and shared with the needy in the community. I thank you for God too, for the harvest of memories of the many wonderful meetings in our homes, within those safe spaces, as we started both a new relationship and phase in our church history.
Jesus, this week, speaks of relationship, of loving and helping one another to the point of playing a vital role in a personal crisis, or around whatever makes one feel and outsider to the community: he shows 'church' as holding a people of extraordinary resilience, wisdom, compassion and in that sacred space, providing a safe space to for confidentiality and response to a personal cry for help.
I believe that is what our church is doing right now: providing human resources to assist others in whatever way is demanded, in the time of Covid crisis. We certainly have experienced changes to meet restrictions, but we hope that the worship and teaching has been nourishing and vitalising. May we continue to mirror the wonderful qualities our Saviour offers us once again in this week's readings.
We are urged to dialogue with God in thanksgiving, and with contrite hearts, yearning to be re-filled and re-aligned and re-guided into the light. We are, Romans reminds us, people of light.
Let us seek it together, and help one another find it! We all enter dark patches, and depend on each other to lead us gently into brighter places. I am so grateful that we do have one another, and our bright spaces of worship, and that slowly, others are coming to join us.
If you are unable to get to church, and would like to receive communion and a chat at home, please let us know.
The online Sunday Eucharist is ongoing, and I am sure many of us are enjoying our bishops' exposition of the Word, encouragement and sacred Joy. There is also a Thursday evening online Service of the Word, which is an inspiring and comforting mid-week service.
Here are the readings:
Ezekiel 33: 7 – 11
Psalm 119: 33 to 40
Romans 13: 8 to 14
Matthew 18: 15 to 20
With every blessing
Kathy Barrable
e-letter Pentecost 12
Beloved in Christ
I am learning to incorporate some typically Scottish words into my vocabulary, like the 'dreich'weather we have had in the past week! However, it accounts for the crops growing, harvesting and the loveliness of the River Tay, silver as plate glass as I write this!
Church activities have been getting increasingly busy and structured!
1. Area council. Our Bishop has been encouraging engagement with fellow churches in our area. All Saints and St Andrews from St Andrews, Cupar, Ladybank and ourselves have met at two levels thus far: clergy, then on Thursday evening, lay reps, vestry secretaries, Lay readers. Two words stood out for me: collegiality and democracy. For the first, we are building up a friendship and resource centre close to where we live; democracy is encouraging us to participate in the discussions and directions of our church. Bishop Ian is wonderful at listening attentively as are his close co-workers. It was wonderful to share our views and experience with others, and listen to new approaches and ways of 'doing' church. Zoom gave us the visual, and in one instance, telephonic connection. As a newcomer, I am delighted to be part of this participation and openness. We will move forward constructively and together. To discuss the ways in which we are coping with lockdown was also helpful. I am proud of the way you are vigilant, whilst opening our churches to each other and others as well. Thank you!
2. Mission: we also discussed the vitality that comes from worshipping and working with other denominations: this is well in place with both of our churches, and I am thrilled that so many joint sharings will take place in the Christmas calendar. Apart from being spiritually nourishing, it seems as if we will get some exercise in the process as we walk our precincts.
3. One of the initiatives of the church is inviting others to join us. We have started discussions around this and would welcome any input from you too. I know how welcome guests feel, but the Good News will find a place in many peoples' hearts and lives. We should continue to find ways and means of doing this in new and different ways.
4. The do's and don'ts of lockdown and churches re-opening is diverse and interesting.
5. I have visited most of you in your homes and that has been a great privilege. I am able to bring you communion and personal news should you wish – please let me know when it would suit you. The interpersonal exchange is wonderful and I thank you for your hospitality (one of the guidelines Paul gives us for healthy Christian living in Sunday's reading)
6. We continue with the regular Zoom meeting on Wednesdays at 8pm. Whilst we agree that Zoom has become part of our weekly routine, and a beneficial one in that it is a forum for free discussion. For those who can't attend, could you give us some feedback please: why do you not wish to participate in Zoom, would you prefer a different time, or format? Your feedback will be treated confidentially. This Zoom meeting is a forum for exchange of ideas, opinions and reflections, with a spiritual and mainly Episcopal content and base.
7. We started thinking of creating another weekly service/meeting for St Mary's. On further reflection we have a growing awareness that the steps might preclude people from worship, so this gathering could be outside the church somewhere. What, when and how do could you propose we move forward with this?
Perhaps you could email me or phone me, with your opinion, and we can move forward on this one.
Seven points have been mentioned, and 7 is a sacred number so I will leave it there today!
Readings for Sunday are
Jeremiah 15: 15 to 21. Psalm 26: 1 – 8. Matthew 16: 21 to 28 Romans 12: 9 to 21. The Romans reading is one of the best guidelines to joyful, fine and redemptive living, and I urge you to mark it off in your bible, and to ponder regularly. In the hard times it is uplifting, in the good times broadens our conception of joyousness, and in between, encourages and inspires.
Do not hesitate to call or email me or schedule a cat. You are blessed - be a blessing to others
In Jesus name
Kathy Barrable
Beloved in Christ
It was wonderful to share the Feast of St Mary last Sunday in Newport. It was a great joy to hear the happy reunion greetings of the two churches. It was a beautiful service, and I attach Betty's homily on St Mary's and Margaret's homily on the Mary the Virgin. I know not more than 4 householders brought refreshments, but we will have to cancel any further refreshment sharings until we are advised that the government permission has allowed it.
I have just returned from St Mary's, where two clergy wished to look at the back of the church meeting and refreshment space: they were so impressed by the concept and the beautiful re-use of the pews for all the cupboards. I believe it is Ann's masterwork, yet many of you were involved in the project: sometimes we don't stop to celebrate our achievements or thank those involved! Thank you for this lasting gift to our community! One of the clergy, Dr Carrie Applegath brought her husband, Bishop Ian, who sends you all love and best wishes, saying that he looks forward to meeting you again. It was a surprise to me, but I was so proud that all the evidence of correct compliance was there, in place. I turned on all the lights and St Mary's was beautiful, as always!
Clergy meet on Zoom every Wednesday morning, and the group have sustained and exchanged with one other: it is that encounter that prompted today's visit. Two thoughts stem from this:
1. Our Wednesday evening Zoom meetings have been a wonderful way of exchange. In informal meetings, we could look at each other, and enjoy chatting: it is developing its own identity, and I thank you for transitioning me in lockdown to a feel of family. I want to urge you to join us, even though it might be more convenient NOT to!!! We do not know what the future holds regarding the virus: legislation and the way people meet, so it is good to start the process our own experience and perception in small ways, together. By the way, thanks Duncan for hosting it! Also, I will be asking you if your group should continue meeting weekly, and if you are still happy with 8pm.
2. Clergy met on Zoom for an Area Council meeting, and this Thursday at 6.30pm, there is a Zoom Area Council for clergy and vestry. I implore you to set time aside: it should be Christine, Mike and Janette, Betty, David, (and who else would like to come in on this one?), Margaret and me. Please be sure the vestry secretaries know you will be joining, and that you have the right links: the participants must be forwarded to Carol, Bishop's secretary.
DATES TO NOTE:
27 SEPTEMBER – HARVEST FESTIVAL. The readings have changed from the original roster.
I am busy working on the rota for November/December at this stage, so if there are any additions, let me know in good time, remembering that I am new to all the common traditions.
READINGS FOR THIS SUNDAY
Isaiah 51: 1 to 6. Psalm 138. Romans 12: 1 to 8. Matthew 16: 13 to 20. The central theme is Peter's recognition and naming of Jesus as the Christ, the long-awaited Messiah: the question posed to you and I is: who is Jesus personally, to you?
May this recognition be with you as you journey into this next week.
Grace and Peace
Kathy Barrable
Pentecost 11 e-newsletter 16 August
Beloved in Christ
I am scripting this on a cool and cosy afternoon, and that makes me reflect on the Africa-in-Scotland tropical downpour on Tuesday night, and again, as I was walking our doggie, on Wednesday early morning: thunder, lightning and a storm! Thereafter, the day broke into hot sunshine: the following day, the Haar settled in till lunchtime… thank you God for allowing me the spectrum on daily display!
I am looking forward to meeting many of you on Sunday at the joint service at 11am, at St Mary's. Some have been speculating about how long it has been since the 2 congregations met in one venue! I am going to bake a chocolate cake and bring a slice for tea afterwards, and a cup, saucer and cake fork to accompany it! Who says we Episcopalians don't know how to share good times over a cuppa!
Once again, I extend my offer to come and visit you, with communion, whenever you wish: next week, I will start visiting those of you who were my first to see friends, and I look forward to it.
The readings for Sunday are the special ones for Mary the Virgin. They are as follows: Isaiah 61: 1, and 6 to 8. Psalm 45: 11 to 18. Galatians 4: 4 to 7. Luke 1: 46 to 55.
I include some notes on the vital role and example of St Mary, for your reflection and prayers:
1. Mary is the greatest of all saints: she chose to co-operate (as voiced in the Magnificat, from the Latin 'Mary's song of praise') with God and devote herself to God's plan to incarnate in a person of Jesus the Christ. She is a model of witness; willingness, submission to God's plan; the first true follower of Jesus. Roman Catholics call her, 'Mother of God'.
1. She and her purpose is foreshadowed in the Old Testament (Isaiah 7:14) as the virgin of Emmanuel. Emmanuel means, 'God is with us'. The Old Testament predicts and envisages both Mary and Jesus, mother and son.
2. The immaculate conception deals with the conception of Mary herself, not her Son. She is sinless and a fitting miracle.
3. The Mary moments in the New Testament point to Jesus each and every time: Mary in The Magnificat, the family encounter with Jesus in the temple; her intervention at Cana; at the end of his life, standing at the foot of the cross.
4. She is the model of nurture and life-giving, instrumental and commanding in her example and witness. Marian theology asserts that she witnessed his Resurrection and Ascension additionally.
5. Mary exemplifies courage and character: 'I am the Lord's servant'. Even though warned by Simeon, she says, 'May your word to me be fulfilled' (Luke 1:38)
6. She is recognised in the Islamic tradition; a universal figure of nurture and commitment, qualities which appeal to men and women of every age.
After Sunday, I hope to share Betty's reflection of the history of St Mary, and Margaret Gray's view of St Mary.
I have just read The Winter Whale' by Jim Crumley. I heartily concur with the author's view and sentiment, that the whale, but for industry, greed and money (and the societal attitude at that time), might still be sporting, splurging, swimming and singing for another hundred years, rather than face its ignominious disgusting death. Every day, I look on our estuary's changing moods with wonder, and think of the history which has flowed there; the silhouette of Dundee now sporting ornamental Jute stacks, deserted oil rigs, in wait for usefulness in the future. I guess every one of you could add your own piece of history to it, and I hope to share your stories. Please feel free to share your perspective!
The patronal festival of St Margaret falls on Sunday 16 November, and you will have a chance to share some local history, anecdote or memory with us then please! In the meantime, do email me your encounters.
God bless and look forward to seeing you soon
Kathy Barrable
Pentecost 10
Beloved in Christ
Next week's service is the FEAST OF ST MARY. It is at 11am, at St Mary's: we decided that it would be best for each of us to bring our drink and eats of our choice (rather than sharing). We could remain in our pews after the service, and chat away on a holy babble, to catch up on our news. We look forward to seeing YOU there!
Please see the important announcement regarding compulsory face masks as from tomorrow. I have put it in RED.
Many churches have not re-opened for practical reasons, and we are surely grateful that we have, because we are able to manage our social distancing comfortably. I urge all of us to keep that awareness at all times, specially on arrival and also during communion.
DO join us for a Zoom chat evey Wednesday evening at 8pm. It is proving to be a valuable time of sharing and developing together.
Readings this Sunday include these themes:
Go to a still place for personal prayer(or ask someone to pray with you - I volunteer!) if you are suffering from any one or all of these danger signal conditions: (They are taken from an AA programme but apply to every one of us!)
HALT:
Hungry
Angry
Lonely
Tired
God's voice comes in silence, not hectic activity
Do not be afraid.
Trusting in God for an outcome
Following Jesus
1 Kings 19: 9 to 1
Psalm 5: 8 to 13
Matthew 14: 22 to 33
Romans 10: 5 to 15
God bless you!
Please call if you would like to chat or for me to visit, specially if I have not come to your home yet.
Kathy Barrable
The First Minister announced in her daily briefing at lunchtime today that, as from tomorrow, the wearing of face coverings is to become mandatory in places of worship. This will obviously affect any church services taking place this weekend and until further notice.
Since the announcement at lunchtime, the formal Regulations have now been laid before the Scottish Parliament and apply from tomorrow. The issues of which to take note are as follows:
The Scottish Episcopal Church's Advisory Group Phase 3 guidance, as most recently revised earlier this week, currently "encourages" the wearing of face coverings. Clearly that must be stepped up and churches must now conform to the new law which takes precedence over the guidance. This means that, subject to exceptions mentioned below, those in church must wear face coverings. The exceptions are as follows:-
1. The person leading the act of worship does not need to wear a covering provided that either there is partition (eg screen) between that person and anyone else or a distance of at least 2 metres is maintained between that person and any other person. In practice therefore, if the clergyperson, lay reader or other person leading the service is sufficiently far away from the rest of the congregation (ie at least 2m) they need not wear a covering. Where that 2m distance cannot be maintained, a covering must be worn and so, for example, those administering Communion must wear a covering while doing so.
2. The exemption also applies to "volunteers" in places of worship which would seem to allow that if a person is leading intercessions or reading from a lectern then they may remove their face covering provided the 2m distancing is maintained or a partition is in place. I would recommend however that any such volunteer should replace their covering as soon as they have finished the intercessions/reading or similar activity. The exemption should not be seen as a carte blanche for volunteers not to wear a covering, and so volunteers performing other functions should continue to wear one.
3. Those excused from wearing a face covering include children under the age of 5 and people who cannot, without severe distress, put on, wear or remove a face covering because of a physical or mental illness or impairment or disability.
4. Coverings may be removed where necessary to seek medical assistance, or to provide care or assistance to a vulnerable person.
All of these various requirements should also be applied for weddings and funerals.
The Scottish Government's own guidance for Places of Worship is to be updated and will available during the course of tomorrow at: safe use of places of worship guidance. Under the Regulations published today, those responsible for a place of worship are now legally obliged to "have regard to" such guidance. The SEC Advisory Group's guidance has from the outset endeavoured to reflect and apply, for the SEC context, previous versions of that Scottish Government guidance, and so tomorrow's Government guidance should not contain any surprises.
The First Minister also announced today that the wearing of a visor is no longer to be regarded as an adequate face covering. The Advisory Group has in fact been considering that specific question this week. Essentially, a visor protects the person wearing it from airborne droplets. A conventional face covering, on the other hand, is designed to protect not the wearer but other people. Consequently, whilst visors can continue to be worn, they must now be supplemented by a face covering (unless covered by the above exceptions).
Pentecost 9
Beloved in Christ
How was your week? Take a moment to review it and note when you experienced that wonderful God-and-I are-one moment! Most of us easily identify with that, specially when it is as lovely as Friday, Saturday and Sunday this week, when we can walk under glistening boughs in shafted sunlight, knowing that the growth this season is good. Nature, like us, is new every day!
I attach a hilarious clip: perhaps when we host many a wedding we will not be faced with this dilemma!
We have been exploring the Kingdom of heaven, on earth, as it is revealed this very day. God our loving father invites us to participate in this kingdom of unconditional love, assuring us of his encouragement and support. Jesus, the parable of God, the embodiment of his father, demonstrates through his experience and interaction, how to behave in loving God and others. The Holy Spirit intercedes and prays for us with groans and personal words, feeling as we do, the embrace of God.
Today, Sunday, reveals a revolutionary Jesus, who says, in so many words, go and feed the people yourselves. He throws the ball back into our court! He makes that our responsibility and privilege. We become his hands, his intentions.
However do we feed the 5000 with only two loaves and 5 fishes?
This is what we are exploring. I say the same to you – I cannot, I am new, I am only here for a little time, so what do you want of me? Yes, I can and love leading you, but it is you who must go out, and return to share how it has been. This is the only way we can grow. I can only grow through your growth. If not, I will remain a great tree on a lonely hillside, not as I should be, in a forest.
Allow me the sacred privilege of hearing you always: this is my prayer. For my part, I promise to listen, taking as long as you like, to you. I promise to hold and support you. I promise to pray for you, on the good and bad days.
Yet, it is together that we will explore our world, and come to a new place of fellowship!
I am really moved that so many of you are back at church, in the fold, and looking happy, smiling and being so supportive and responsive. There's a lightness in the air! Bless you!
On 16 August we will get together in St Mary's to celebrate the Feast of St Mary. Last week I asked if you would let our vestry secretaries, Christine and Betty, know how many of you with friends and family, will attend so we can keep track of numbers. I am hoping that we can return to the rectory for a cuppa afterwards, but will be guided by the Diocesan guidelines.
Please join us on Zoom on Wednesday evenings at 7pm. If you are new, I will send you the link – it is easy to join in and each session is self-contained. Presently we are talking about our favourite hymns and the personal background. Perhaps you would like to phone me or email me to tell me what yours is and we will share it.
Readings for Sunday
Isaiah 5 1 to 5. Psalm 145: 5, 15 to 22. Matthew 4: 13 to 20. Romans 9; 1 to 5
All the richest blessings to you, child of God!
Kathy Barrable
Pentecost 8
Beloved in Christ
Everyone I speak to expresses their pleasure in this summer's weather. Think of this morning! On awakening, God was pouring showers down, and by the time I came out of the St Margaret's vestry meeting, it was a hot and bright day! I sense that we are all rejoicing that lockdown is safely easing up, those we love are accessible, and the towns are filling up as a new almost-normal! May our hearts too, continue to be replenished by joy, and may we be the grateful, loving people God wants us to be!
It was really lovely to see so many of you last Sunday. It was a welcome home. We prayed for those of you who couldn't be there, and look forward to seeing you as soon as you can. If you would like to receive communion at home, I will happily bring it to you and stay for a prayer: just let me know.
One outpouring of our love for others, and the needy, has been food contributions for the food bank. When you come tomorrow, or make plans to meet us during the week, do remember to pop in some extra groceries. I was reflecting on the implications of Covid 19 with some South African friends, and we wondered whether starvation or covid19 would have the greatest fatalities. Here in Scotland, we might not see that extreme, but there are many needy, and we pledge to look after them, as family of God.
Collection and banking details: Thank you for continuing to generously gift to our churches. It is most gratifying to see how faithful you are in this regard. We wondered if you might prefer to use internet banking. If so, please ask Mike or Betty for the church's banking details.
The church properties are looking good: St Margaret's garden pots of colour will be replaced by new containers, and the holly hedge at St Mary's will look trimmed and shorn shortly. My son and I did a little mowing of the lawn last weekend, bent against a very icy gusty wind. Yet, nothing surpasses the beauty of our churches' interiors! How glorious the investments of those people of yore are, and your hands, now, on the preparations, from the initially tedious and necessary sanitising, to the perfection of flowers in church, are allowing us to worship safely and joyfully. Thank you, each one of you!
The balance which comes of dividing the day into portions of prayer, reflection, work, including gardening, and meals, is rather Benedictine, don't you think? It is thrilling to see how many people are busy with renovations, painting, off gardening projects, and tending the loveliness of summer! I should mention, that internet has taken on a new magnified proportion! Lockdown has definitely led us along some very different paths of late. I hope too that it has been a time of significant spiritual reflection for you, and along the lines of the way church is evolving, with your input!
16 August – Feast of St Mary. This will be a joint service in Newport, at 11am. We look forward to seeing us all together. This will be family-orientated service, so please let Betty (076213770) know your numbers, from one household, or visitors, so we can plan accordingly. The service will be followed by tea and eats (if you could bring a little plate each that would be perfect) at the rectory, 20 Craighead Road, Newport. Note please, that this service replaces the 9.30 service at St Margaret's.
Readings for tomorrow, Sunday are as follows:
1 Kings 3: 5 to 12, Psalm 119: 129 to 136, Matthew 13: 31 to 33 and 44 to 52.Romans 8: 26 to 39.
Perhaps you might be wondering why I always place the epistle reading after the Gospel?
The Old Testament reveals the humanity of God's people, their perennial issues; their relationship with God, which waxes and wanes, their choices, but the nature of God, which is ever-loving and ever-restorative and yearning for intimacy with God's people. The gospel reveals the parable of God in Jesus. This week's 4 parables teach us of the kingdom of heaven, and how we should, above all, seek it. The parables of the mustard seed, a tiny thing, growing into that which gives shade and protection to all people; the pearl and the treasure found in a field, so valuable that all other pursuits and wealth falls into insignificance, and the great Fisherman who returns the smaller fish to the sea to grow more, keeping the bigger fish for the catch. (I wonder what we estimate our weight to measure, in God's hands?) Then, in the epistle, Paul reasons with and preaches to a highly civilised, articulate, people of power and prowess, of the way in which the Holy Spirit operates, and intercedes, for every one of us, within the Christian faith and to the gentiles, who worship a multitude of gods. Let's allow the Spirit to speak to our creator about the really deep things which we might not have shared with God, those issues at dark places in our deepest heart, as well as the petitions which beset us on a daily temporary basis.
May God bless you, as you are a blessing to others!
Kathy Barrable
Pentecost 7 July 19th
Beloved in Christ
I wonder how your week has been – like most of us, you are no doubt looking forward to starting a new week! Tomorrow is Sabbath, a time for togetherness in Christ, a time for reflection, a time for worship!
We are very excited that St Mary's and St Margaret's have been given permission to re-open tomorrow. We have taken all the measures regarding care and safety, as recommended and approved by the SEC Advisory Council, and our methods and procedures are approved by vestries.
For those of you who feel comfortable to attend, here is a video to help you along: In case you have not already seen them, the SEC has produced the attached summaries of what Phase 3 opening involves. Members of your congregation may find them helpful to see before they come to worship, and also the short video which shows people what to expect if they come to a service, available at: https://www.scotland.anglican.org/phase-3-guidance-video/
and also at:
https://www.youtube.com/watch?v=yVGNvOBIiRI
The myriad of precautions may seem a little tedious at first, but I think you will be comforted to know that we will be safe.
For those of you who are worshipping at home, the SEC service is still online at 11am. God willing, we will have a recording of our service at St Margaret's for you to watch. We are grateful to Duncan Sage for taking the video. Should you wish to have a copy of the sermon, please let me know.
Readings for this Sunday are as follows:
Wisdom 12: 13, and 16 to 19
Psalm 86: 11 to 17
Matthew 13: 24 to 30 and 36 to 43
As we live so close to the fields of wheat, some of which are already harvested, the parable of the wheat and the tares(darnel) is very real.
Enjoy the fullness of God as we move forward with hope, faith and love. Stay in touch and stay safe!
Richest blessings
Kathy Barrable
Beloved in Christ
It is with great joy that I inform you that our churches will be open on Sunday 19th!
The services will be at the time we discussed so long ago before lockdown: St Margaret's at 9.30 and St Mary's at 11.
The most important assurance we offer is that coming to church is our own decision and that there is no pressure to invite you to attend until you are ready. If there is any reservation about public worship, please delay your attendance, until you feel either more comfortable, or well enough to be with us.
We will need to be very observant of the rules for us all to remain safe and healthy, as we benefit from togetherness.
Should you have any queries please feel free to phone or email me, Christine or Betty. You know I have visited you at home, so if you would prefer a visit I will do that with pleasure and as often as you like!
Here are some points for your consideration. They are in line with what the Bishop has approved for our proceedings.
1. Bring your mask, hand sanitiser and whatever you like. We will have spares in the church.
2. The greeter/ sidesperson/volunteer, at the door will guide you as to seating and other arrangements: just gesture during the service if you have a query or are unsure of what to do. You may use church order of service, hymn book, and bible readings until the end of August. After the service, you may take books and readings home, and bring them to church the following week. They are on loan until phase 4 at least!
3. Face coverings are only for entering and leaving the church, when physical distancing is difficult. Once people are sitting down, they can be removed (if wished).
4. Do remember to bring your own bible if you would like to follow the readings in church.
5. Communion will be the host only. You will be asked to file up to the Priest, to receive. At all times we will keep social distancing.
6. I will be the only person to use the vestry, and the altar, including ablutions.
7. No coffee and chat afterwards, at present. Likewise, during the Peace, we will not move around and greet one another
8. Readings will be read from the front of the church, not from the lectern.
9. Hymns will be played, but no singing. It will be good to have your hymnbook open so you can follow the words
10. Collection can be placed in the plate, and it will be administered after the service.
11. If absolutely necessary, toilets can be used, and sanitised scrupulously by the user/s
12. The church will be locked during the week, the only person allowed entry will be the priest, vestry secretary, lay reader and cleaner.
To put you in the picture of the process involved, the bishop and advisory committee has once again offered us guidelines and we with the vestries have submitted our proposal to him for approval. It serves to bind us to what we are going to do, and it complies with standards and legalities of our church and country.
For your reflection. Please look at the picture of a boy's face in the attachment. Allow yourself to be peaceful and quiet, asking God for communion with you... allow the face and whatever else you see in the picture to settle into your spirit. Reflect on it for as long as you like, or on more than one occasion. Thank God each time for the insight you have gained. We looked at it together in the Zoom discussion on Wednesday and then shared our ideas, in their variety. Together we built up a kind of joint consensus. Walking in Tayport last evening round 8.30pm, I saw a glorious rainbow over the Tay and took it as a confirmation of the spiritual exchange we had shared on Wednesday. We also discussed the importance of images and pictures in our churches, and memorable ones we had seen elsewhere. Art has a deep significance in our community.
The Iona community have composed this hauntingly evocative and moving hymn. If you look at it on the link, you will be able to hear it sung. Enjoy the way it bonds and uplifts us all. It is called, Hymn for Our Times, and has been recently written by John Bell of the Iona Community's Wild Goose Resource Group. John has made the hymn freely available.
We will meet when the danger is over,
we will meet when the sad days are over;
we will meet sitting closely together
and be glad our tomorrow has come.
We will join to give thanks and sing gladly,
we will join to break bread and share wine;
and the peace that we pass to each other
will be more than a casual sign.
So let's make with each other a promise
that when all we've come through is behind,
we will share what we missed and find meaning
in the things that once troubled our mind.
Until then may we always discover
faith and love to determine our way.
That's our hope and God's will and our calling
for our lives and for every new day.
https://iona.org.uk/2020/06/15/we-will-meet-a-new-song-by-john-l-bell/
Scripture readings. It is strangely new to consider that next weeek we will be together!
I am reverting to the thematic readings which will be used on teh SEC service on youtube tomorrow at 11am.
Isaiah 55: 10 to 13. Psalm 65: 9 to 14. Romans 8: 1 to 11. Matthew 13: 1 to 9 and 18 to 23.
Next week I will send you the readings until the end of August.
With my prayers and best wishes
Revd Kathy Barrable
Beloved in Christ
I trust that this has been a good week and that you are looking forward to planning or meeting some special family or friends a little further afield. 'Normal' will be appreciated as never before wont it!
The bishops office is keeping us up to date with implementing Phase 2, and we are discussing re-opening the churches for private prayer at present. The Advisory Committee is looking into the future - phases 3 and 4. Bishop Ian has been in touch with priests and invited us to a preliminary meeting within Area Councils via Zoom. It will be sacred space to deepen our reflections on church services. I rely on what you think, and so our seemingly light-hearted Zoom meetings are critical. Please share your feedback and ideas with me by phone or email should you wish to. In England, for instance, weddings of up to 30 will be permitted, but no singing allowed. How important is singing to you and what difference do you think the lack of participating in hymns as against perhaps playing organ music or listening to a hymn will make? Much earlier, we discussed how we might adapt during the Eucharist and sacramentally… what do you think now? I am very aware that many ho have been shielding will be ultra cautious re-entering events and group meetings.
The vital question is: what kind of church does God need us to be now?
Church visits: as yet no one has asked to visit church. I fully understand and respect that many of you are being careful at this stage. What is right for you is right for our churches.
Home visits: It has been a privilege to visit some of you in your gardens. All of you are wonderful people and I am humbled to get to know you beyond the paper or screen we are accustomed to. Even a phone call cannot make up for face to face! May God bless you, those you love at home, and those precious to you as we move to being able to visit their homes!
Please pray for Bishop Ian as he is now additionally Interim Bishop for Argyll and the Isles. I wonder how he will manage this daunting task, as there are so many complex issues within our state of being, in Scotland now, as well as within our own diocese, and even congregation. 'Cometh the hour, cometh the man' (Shakespeare) and he is leading us through unchartered terrain with grace and facility. I wil send him an email wishing him well and offering our prayers. Bishop Kevin is now Bishop of Glasgow and Galloway, so your prayers for him and his diocese now too please.
I have asked Bishop Ian to record a video of a service for us here in Newport and Tayport. It will be a treat to have aour Bishop's personalised sermon won't it? We will also have it on hard copy so that we can ponder it at leisure.
Following, 'cometh the hour, cometh the man', let's shift to a more personal reflection. YOU! There is a fourteenth century British proverb whish says, 'Opportunity makes the man'. I wonder if we could reflect on the opportunity lockdown has given each of us – have we taken it as a time of gift, or have you discovered some gifts along the way? Has your behaviour, or attitude changed? Have others – even strangers, been different this lockdown? God has given every one of us unique gifts: this could apply to each of us, diverse as we are: (1 Corinthians 12 : 7 to 11) Ponder these gifts and see which one or more applies to you. In Genesis 12:22, we read that we are blessed to be a blessing, so shall we live into this actively this upcoming week? God had you in mind when creation began, Ephesians 1:11, and we are assured that we are here for a purpose: let us , if we have not done so already, identify what that purpose is, and live into it with clear focus.
Let's look at the gifts of the Spirit in 1 Corinthians 12: 4 to 11. By recognising our gifts, or naming the gift we see in others, our unique purpose, let us share it actively with our church. Church, by the way, is, in Greek, 'ecclesia' which means 'the people'. I suspect that some of us, me included, has been gifted new depth in church friendships. Judging how easily you share parts of your lives with me, how much more must it be if you have deep friendships over the years? That means, our family, friends and our church. We are considering how church would be: should we now consider how YOU will be in church. What will you do to add something new? Perhaps an action, an initiative, a proposal – which we need now more than ever. I am not saying the church needs to change, but rather what you bring from your heart and experience, into this newness.
Here are some prompts for your thoughts and prayers (some were touched on during our Zoom chat).
At this phase 1 of lockdown:
What relationship, perhaps a new one, has been a change agent?
Has your home circle revealed some new aspects of relationship?
What gives you joy in lockdown
What, most of all, do you long for after lockdown?
Has your home space altered? Have you needed to create a study, or a pace for something you want or need to do? Has your relationship with God/ your prayer pattern/ your routines changed/ modified/ adjusted?
I hope you are looking at the SEC Sunday service at 11 am. They are indeed inspiring and varied. The Thursday evening Service of the Word is also recommended: I a. always peaceful when I share prayers with others further afield. What is great, is that you can view services at your leisure, and I'm wondering if this 'convenience' isn't making a big difference to young families!
READINGS FOR THE DAY
Last week's readings (Pentecost 4). The SEC service focussed on the feast of St Peter and St Paul. Here are the continuous readings:
Genesis 22: 1 to 14. Psalm 13. Romans 6: 12 to 23. Matthew 10: 40 to 42.
This week's Sunday readings
Genesis 22: 34 to 38, 42 to 49, 58 to 67. Psalm 45: 10 to 17. Romans 7: 15 to 25a. Matthew 11: 16 to 19, 25 to 30.
With every blessing. Thank you for all you are, and the way you love our Lord!
Kathy
Hello brothers and sisters in Christ
Today I am filled with gratitude: for your faithfulness and devotion to one another and to our 'home' in church. I look forward, as you do, to populating those sacred spaces, and to receive the grounding fact that the buildings have held tradition, and its peoples, through thick and thin. I hope that each of you will come and enjoy personal prayer there. Bring your favourite book, the bible, and something you would like to mull over with the God who always loves you unconditionally, and Jesus who will never leave us. Love is what has brought us through lockdown, and created the desire to be reunited with family, with friends and with each other. I am hearing that lockdown has in some ways been pleasant, that it has been very little different, that you have been able to live within its constraints comfortably. But, in your heart, it is sure to have raised some questions, and that is what you might like to ask God about now.
It is a great pleasure to be meeting you on a one to one, face to face basis. Thank you for your hospitality and welcoming ways. I know your voice, I know your face if we have met on Zoom, but it is very exciting to share space, discover our commonalities and be urged to move forward together. I pray for each of you every day.
We are starting, in Zoom anyway, to bring our stories into common sharing space, and this has gifted us times of recollection and laughter, at times poignant, at times sad. These strands will be plaited together in new styles as we deepen those bonds, allowing Christ to guide, inspire and mediate. With time, we will anticipate togetherness once again.
v Pray for us all, by name
v Forgive others as Christ forgives you
v Book your time to re-enter church
v I will be coming to visit you soon
v Think of any innovations you think might work in church – after lockdown
v Join us on Zoom on Wednesdays
v Celebrate how much God loves you
v Know that Christ comforts you – just re-look at tomorrow (Sunday)'s reading in Matthew…'Come to me all you who labour and are overburdened, and I will give you rest. Shoulder my yoke and learn from me, for I am gentle and humble in heart, and you will find rest for your souls'. Draw from this assurance!
Readings for Sunday
A golden thread that runs through the readings is that of choices. Not to forget, though, that although we might not make good choices, which bring an increase in faith, hope and love, that God is with us, wherever our choices land us, lovingly helping us to mend what was broken, forgiving us and enabling us to find new ways.
Genesis 24: 34 to 38 and 58 to 67. Isaac seeks, meets and marries Rebekah. It is a selection process in which God is consulted, guides, resulting in a blessed union. (I also love the part where it adds in that Isaac's union with Rebekah comforted him in his grieving for his mother!)
Song of Solomon2: 8 to 13. I chose this rather than the psalm as it is a long time since we have pondered this wonderful metaphor of how God adores us: how God woos and seeks us, wherever we might be.
Romans 7: 15 to 25a. Paul speaks of his 'natural self', full of repetitious selfish behaviour, and by contrast, the life – giving spiritual self, motivated by the example of Christ: how difficult it is to break our base nature with its negativity, complacency and judgementalism, rather than consciously choose the way of Jesus. It is only through prayer that we can reflect on how we have succeeded in our daily deliberations and decisions. As we consider what our choice has been, and what the result was. Jesus offers forgiveness for the ways we have turned away from him, and, as he said to the woman at the well, urges us to 'sin no more', break our old patterns, and choose His way.
Matthew 11: 16 to 19; 25 to 30. Jesus speaks of his generation ignoring the invitation to New Life, and he would echo this to us – being offered the richness of the gospel, and a Way of living, with Christ as our guide, mediator, forgiver and motivation: in fact, our friend. Prayer and reflection as we have it on offer right now in our church will throw new light on stale situations and approaches. It is indeed an exciting time! Let us turn to the Son of Man for some new life!
Reflection: how many synonyms can you find or the word, 'choice'? What choices are you making now, and how is God featuring in them?
I have mentioned the Ignatian tool called the Examen before. In our evening prayer, we are invited to review our day, and we start noticing which of our actions or encounters were 'of God' and which were 'not of God'. Should you be interested in trying this out for a while, you might download the app on your cell or computer called 'Re-imagining the Examen'. If you don't like it, it can be uninstalled!
Love is in the air – as I send this to you – the heavy rain has been replaced by dazzling bright sunlight: a perfect end to another day along the Tay.
Blessings
Kathy
Dear families in Christ
There is growing, fullness and joy in the air this perfect day! Our churches will be inviting you to prayer time within their hallowed walls, walls which have sheltered generations of believers. And now it is our turn to ease out of lockdown in that sacred space. It would be useful to each of us to consider how we have been in heart mind and soul for these months; how that experience has changed us, our way of living and possibly, even the way we look at life. We have been made one – for the virus has affected all of us, regardless of who or where we are. Whatever our personal story, our home story, our world has taken a knock; medical science been pushed, human rights have taken a new shape in the 'black lives matter' upsurge, politics have worn a new mask!
I have enclosed 2 pictures taken in March/April, in our churches, where I sat alone, celebrated mass, on your behalf, but feeling a great sense of sadness on turning to look at empty pews. The moment our Bishop has approved our plan for phase 2, hopefully next week, you will be able to make a time with our vestry secretaries Christine and Betty, or me, to spend personal solitary time in church. I know that those buildings will hold your prayers and regain its own life and add another skin of prayer to those hallowed walls. These times are like those in the Ezekiel 27 passage about the valley of dry bones. It is you who will be enfleshed to new movement and propose, and God will slowly renew us in ways we will tell the history of to our children and grandchildren. Each phase will be treasured, and we will grow strong.
It is my first Scottish summer, as a resident rather than visitor! I am filled with joy and often laugh at the antics and habits of the birds and animals foraging or paying in gardens; amazed at the ever-changing sunsets over the Tay, the late light evenings, and the growth spurt of summer in the plants and flowers. I too feel a quickening within myself in alignment with nature. The beauty of lockdown has been that appreciation through the freedom to have time and choice of when to walk, talk or be.
Zoom on Wednesday evenings has been fun. We are delighted that the numbers are growing, so once again YOU are invited to join this week. In a relatively unstructured way, we continued to reflect on the 4 questions from last week, then to recount an anecdote about our personal church memories. Janet, Betty and Mike retold their story, all poignant, some hilarious, some personal, some historical, some about people and events. More of us will do so this coming Wednesday. Perhaps if you can't join, email me your unforgettable church story please. My memory takes me back to early childhood. All the children and their families gathered in St Dunstan's church hall for the Christmas service. Father Christmas galumphed down the aisle, greeting children benevolently. All was at a heightened pitch of excitement until my older sister yelled, 'It's DADDY, because TIGER (our dog) is following him!' A riot ensued, breaking the myth forever not only for our little family but for every child in the church! Many years later, giving the eulogy at a friend's Dad's funeral, it was really nostalgic to return, see my dad Tiger, us as children, and the coffin, and our bereft friends.
The Service of the Word is aired every Thursday evening, thereafter whenever you would like to watch it, on YOU tube. It is well worth a watch: Thursdays seem to be good times to just STOP and LISTEN, JOIN IN to devotions.
Sunday services at 11 are well received, last week showing Primus Mark leaning on his crozier and blethering with us. One always feels so safe and unthreatened by him! Someone told me that they prefer the Shepherd in the bible to the Scottish shepherd! The Scottish shepherd uses his sheepdog to round up the sheep, whereas the biblical one does the rounding up himself. (probably herself now). Sometimes we are both – going out when called to do so, and sometimes, initiating the journey ourselves. Both ways, it is the Spirit's prompting which urges us to go and find others who might be in distress, or lonely. I think we shall all be busy after lockdown! I certainly am looking forward to outdoor visits to you!
Readings for tomorrow
Did you notice that I used the Pentecost 2 readings and the Primus used St Columba? ( I liked the way he addressed and banished Nessie! If you watched that video, you would have had a double dose like I did!
Do read these selections, asking God to show you a word or phrase which stands out to you. Write the words down and pray into this week, as they will lead you to Godly action and speech.
The overarching theme is to be courageous, as God is with us, guiding to build others, our church and community up, in new ways.
Genesis 21: 8 to 21. A story of rejection, insecurity and isolation, following the pitiful plight and flight of Hagar the Egyptian and Isaac. 'God was with the boy' verse 20, is memorable to me. No matter what happens to us, or to someone we know, God is there: God can deliver us, God can show us a way forward, differently from what we can perceive, but life-giving and meaningful. Perhaps it is about trust. Do we really believe God will find a new joy and healing for us after lockdown and loss?
Psalm 86: 1 to 10 and 16, 17. 'Show me your way O Lord, and I will walk in your truth'; let my heart delight to respect your name.'
Romans 6: 1b to 11. '…we too should begin leading a new life… realising that our former self was crucified'. This urges us to allow ourselves to be lifted up by God to new levels of life, looking with new eyes at opportunities and new fortitude and appreciation, allowing God to work through new ways on ourselves and community
Matthew 10: 24 to 39. Jesus, having chosen his disciples, tells them there is 'no need to be afraid', that open and fearless speech is what we should use, in building God's 'kingdom on earth, as it is in heaven', as we say in the Lord's prayer.
Blessings and joy
Kathy
Dear friends
I trust that you are doing well and looking forward to a little easing up of lockdown. It has been wonderful to stagger seeing family and a friend, outdoors, and I see some more shops are preparing to open, so that those of you who like retail therapy will be getting your lists prepared!
I have enjoyed our telephonic conversations this week: it is fascinating to reflect on a different level of companionship by telephone. I find that we are introducing ourselves to each other by speaking of common interests, we would not have shared over a cup of coffee after a service. We have a rich and diverse congregation, and I am proud to be with you, and feel affirmed that God has called me here and that we will grow together, and through each other. The church worldwide is being encouraged to enjoy live streaming and watching online services. Our Episcopal Sunday services, conducted by our bishops, and the Thursday Service of the Word, on You Tube are wonderful examples of our church fellowship and diversity. Each service tells the story of its community and the Gaelic prayers and Our Father last week, were exquisite.
The Zoom video chat last Wednesday was heartening, as we are growing in numbers, and anticipate more this upcoming week. Let us encourage and help one another to join. The world which is emerging, phase by phase by phase, taxes us to acquire as many mediums of communication as possible.
We discussed 4 questions and I give them to you here and invite your feedback please. The questions invite us to probe the origins and development of our particular community, as well as our own personal involvement and evolution. (It is NOT a history lesson but a personal prayerful reflection!)
1. What stories formed our church community?
2. How has that story changed, or has it?
3. What are the anchors in our church community?
4. Why does and Episcopal presence matter in that story?
I have been asking you for cell phone numbers and will try to send a message to you weekly, using wassap if possible. It will be a bible verse or reference and prayer.
Livestreaming services are being encouraged by the Diocese, and church world – in fact the whole world. Judging from your response to last week's service, I am seeking a way of recording a weekly service, and I need your help. My request is for someone to take the recorded video and post it on YouTube or Facebook. It does not have to be someone from church or even living in our district, but someone reliable and with that skill. Could you help?
I also encourage you to follow a link or two as listed, in your own time. I have taken it from the Resources page on the Diocesan website:
· The following link follows the line of thought in our 4 questions, on our place in the unique history of our church. Lutheran theologian Pastor Nadia Bolz-Weber picks up on some of the themes we were exploring in the Diocesan Mini Conference and writes 'when people ask me, "why are you still connected to the institution of the church?" I can only answer, "because I believe that scripture and theology and liturgy are too potent to be left in the hands of those who only use them to justify their dominance over another group of people". I also believe that God is powerful enough to guide us in the dismantling of the evil that has been done in God's name; that this is holy work and that God's Spirit will accompany us.
https://nadiabolzweber.com/
· Before we get 'back to normal,' we need to grieve and pray writes
Methodist Bishop Scott Jones
· Covid 19 and Climate Change. If COVID-19 frightens you, you should be terrified by climate change. In this 'Faith Seeking Understanding' article, Daniel Horan writes: 'If you don't like the current reality of widespread illness, death, economic collapse and rolling lockdowns, then you should really direct your energies toward combating climate change.' Instead of a 'return to normal,' let's pursue a profound transformation by Elise D. García. Even before the pandemic, we understood that we were entering a make-or-break decade for humanity to act to avoid catastrophic climate change and global suffering. Now the call could not be clearer. (Did anyone follow the Michael Dowd 'Post-Doom conversations in one of my earliest emails to you, in which Michael Dowd interviews people who are living, and thinking beyond the, 'we have messed up the world irretrievably', to rather, 'this is what I think, and live up to in the world that has been messed, but, is full of hope and regeneration'. It's on YouTube).
Our readings for tomorrow are: Genesis 18: 1 to 15. How surprising to 'host' angels in human form! Often we do not realise that presence until we prayerfully review our encounters. I wonder which angels and messages we could receive this week!
Psalm116: 1, 2 and 11 to 18. We are filled with love when Yahweh bends down to hear my prayer!
Romans 5: 1 to 8. Hardship develops perseverance, which develops character, and we receive hope, based in the love of God! Matthew 9: 35 to 10: 8. As the apostles were appointed, you and I are asked to be Christ unto others, responding to their need in practical and spiritual ways.
Be blessed as you are a blessing to others
Yours in Christ
Kathy
Beloved in Christ
On this chill day, I hope you are feeling some of the return to the new normal in a little social indulgence, meeting with family or a friend, outdoors. That's a Scottish challenge this morning isn't it!
The Holy Spirit is over us, and there is, as a mother hen shelters her chicks, a lot of new companionship and love! This beautiful image is in the Genesis reading today, about creation. God is 'hovers' over the void that is to become this beautiful earth.
1. This Sunday we have a pre-recorded video, the link being on youtube. Here is the link to the service. It will play first at 10.30 tomorrow morning, and then is available on Youtube forever! Send it to friends and family!
Just click on: https://youtu.be/1lsTVI3MnQI
You can also find it by typing 'Tayport church' into the You Tube search engine.
Let us know how using the video appeals to you – shall we continue?
Readings for tomorrow are: Canticle 1,5,17
Genesis 1: 1 – 2: 4a really wonderful substance for this week's contemplation
Psalm 8: a song of praise
2 Corinthians 13: 11 to 13 how we ought to relate to one another
Matthew 28: 16 to 20
I have sent you readings for the week till Pentecost – do you wish to receive this still, or only a Sunday reading?
2. I include part of a very relevant excerpt from Bishop Ian covering 2 newsy and provocative items.
2.1 From Bishop Ian Paton: 'Pentecost is the feast of the 'new normal,' life in the Spirit poured out on the apostles and on all creation. As we celebrated Pentecost this year people were talking about a different 'new normal' - our life after the Pandemic. When we rebuild our lives, will we have a better sense of what is important? Or will we just rush back to the same old life? What will 'new normal' mean for the Church? What will our priorities be? How will we welcome those who have been joining us online? How will we support those who are sad about people and things that have been lost? What will we need to do if we are to open our churches but keep people safe?
2.2 A week ago over 40 clergy and lay readers shared in an online CMD Conference about exactly these questions, organised for us by Michael Paterson. Our discussions began from his reflections on the Four Hallmarks of Ministry in Luke 24 (Jesus and the Disciples on the Road to Emmaus) in the context of the pandemic. I'd like to thank all of you who attended (and those who tried to but couldn't due to broadband problems). The text and a video of Michael's presentation is available on the Diocesan website. https://standrews.anglican.org/clergy-development- '
3. Weekly ZOOM meetings on Wednesday at 8pm: We have called this meeting, 'Connect': the aim is to share our lockdown experience, looking at where God is calling us, and how we are responding. For 45 minutes we share. This upcoming week we will look at the youtube presentation and would urge you to join us. Thus far we have Margaret, Betty, Duncan and family, Janet, Jane, Frank. If you would like any help in setting up, phone any of us and have a trial run. We really need each parishioner to join in. I hope to resend you a guide as to how to join Zoom. If you can have a family quiz on Zoom, you can join us too! I send a weekly invitation to join for the Wednesday. There is an excellent youtube clip called, 'How to join a ZOOM meeting as a participant'. It, and a host of other clips will help: if you have done it once, it's easy! gives you a pictorial guide! If you would like the link just ask nikisage76@gmail.com to send an invitation, then click, 'Accept' and you can join us! We are looking for a way for you to join us by telephone only, so anyone without internet etc. and phone in. Just let us know if you would like to do that.
4. Included, please find what we submitted to the Diocese, on our engagement with the community. It makes impressive reading. Do you have anything else to ask? If so, please let us have it. Many of you are doing wonderful things, not least of which is praying and caring for family and others in need.
God bless you and those you love, and those who you will come to love and those you met
Kathy
Beloved in Christ
Pentecost is celebrated as the birth of the church, the time when the Holy Spirit enabled all to be included in the faith, inviting growth into new areas of the world. It equipped each person with the conviction and confidence of the faith, ability to share it with others by walking and talking alongside them, able to understand their understand every tongue and god (Acts 17: 22 to 31). As Bishop Ian pointed out, 'church' is comprised as the people of the world, each one we encounter.
How, now, coming out of lockdown and into unknown territory, is our church relevant, and can it ever be, in the same way? How can our church join the greater world? History is re-written and it has taken church with it, inviting us too, to find new ways. You and I are the Christ light out there!
Some ideas that came out of discussions are to do some walks together; picnic in Tentsmuir, hold an outdoor church service, and jokingly, to have a gardening party at St Mary's, and, whilst cleaning up the bluebells, chat and have our own coffee tea and eats. Yes to that!
1. Last week I encouraged us to be one rather than separate. Now I challenge us to be at one with those who walk in our everyday path in our world. Christ has only our arms, our mouth, our action, our love. Let us be like Jesus, walking in the warm springtime newness, LISTENING, and speaking his truth.
2. It might be too soon, but question 2 is: what has this lockdown taught you? What has been an unexpected gift? What has this time equipped you to do?
3. And the third: what gifts do we offer to the new world we re-enter? (next week we consider the gifts of the Holy Spirit and from what I know of you, each of you have gifts in abundance!!)
Our Zoom video chat, called 'Connect' on Wednesday was only 4 strong, as – beware – Zoom invitations are often to be found in your spam box! Haha! It was good though to be refreshed and challenged by face to face and rather personal chats. I asked if any of you could join us in Zoom, or give me your cell number so we could wassap chat, please. As the phases of Lockdown pass, I will continue to chat with you telephonically. It's been a pleasure to have shared your lives as they were when we conversed.
I'm picturing a future Tayport and Newport where we deepen the friendliness of passers-by and walkers, and where we invite each other into our homes! On this, I'm drawing up a little schedule: when might I come and visit you?
A smidgen of personal news; my goods from South Africa will arrive this week! The familiar family things bring me from exile back to the motherland of my grandparents. Many pieces were shipped to South Africa in the early 1900's and now they return. Lockdown is indeed phasing out! In Jeremiah the exiles are encouraged to seek the welfare of the place to which they are exiled. I wonder if South Africa or Scotland has been the place of exile. A good reflection focus. And, in this northern hemisphere, aligned climatically with the Palestine Jesus lived in, I celebrate the warmth of Pentecost-time weather, and the abundant redolent growth around me. Perhaps this Pentecost will be one I remember better than most, more than a sermon, but not as warm as a hug from a friend.
OTHER NEWS
See the important attachment on the SEC Sunday service being available as from tomorrow by audibly linking in, free, by telephone. I will forward it to you as a separate email.
Margaret Gray offers a weekly quiz: if you would like to join the group, please email her on margarettayport@aol.uk
I have enjoyed these prompts from Michael Patterson's Weekly Diocesan resources:
'Living in the midst of a global pandemic is not comfortable but it has forced the church to occupy some space that up to now we've not been fully convinced it's a space we should inhabit. Well, we're here now. Let's get used to it. Welcome to the new normal'.
https://www.musingsinlockdown.com/blog/three-reasons-the-church-needs-to-stay-online?fbclid=IwAR0iXz-T9mzeat2lZPqbF9iKVdDHcYzDvQ-w8d-qLAUyyv24jv0vwoAELsM
From the Taizé Community a polyglot version of the chant Veni Sancte Spiritus https://www.youtube.com/watch?v=WmxXwAgkhWQ
The Rev'd Liz Crumlish, Path of Renewal, shares this prayer for Pentecost based on
John 16:12-13
"You cannot bear them now...
When the Spirit comes..."
Lord you spoke these words to your disciples, enfolded in their own grief and puzzlement In the midst of trauma
yours was the cautious voice of waiting the consoling voice of promise In your infinite compassion you made space
urging them to do the same In these times, we, like the disciples are anxious to know and understand and impatient to act.
Calm our jets, Lord Show us how to wait Still our racing reactivity Encourage us to care for ourselves before we barge on
with fixing the world or even the church.
Reassure us that yours is a long term call that warrants patience, kindness, gentleness, humility, compassion and love
for ourselves and others.
Enable us to sit contemplatively with unanswered questions to nurture our grieving spirits to make space for you
to pour in your healing and your wisdom in your time when you consider that we are able to bear it
And Lord. through the great cacophony of voices urging us this way and that enable us to discern your still, small voice of clarity and purpose.
So may it be.
READINGS FOR THIS WEEK
PENTECOST
Collect: | Acts 2: 1 to 21 | Psalm 104: 22 to 36 | John 7: 33 to 39
MONDAY | 2 Peter 1: 2 to 7 | Psalm 91 | Mark 12: 1 to 12
TUESDAY | 2 Peter 3: 11 to 18 | Psalm 90: 1 to 6, 13 to 17 | Mark 12: 13 to 17
WEDNESDAY | 2 Timothy 1: 1 to 12 | Psalm 123 | Mark 12: 18 to 27
THURSDAY | 2 Timothy 2: 8 to 15 | Psalm 25: 1 to 13 | Mark 12: 28 to 34
FRIDAY | 2 Timothy 3: 10 to 17 | Psalm119: 161 to 168 | Mark 12: 35 to 37
SATURDAY | 2 Timothy 4: 1 to 8 | Psalm 71: 8 to 17 | Mark 12: 38 to 44
God be with you in all you think, say and do!
Kathy
Beloved in Christ
Betty took this picture and her metaphor is of the church… 'passed this tree on my walk today and thought it might illustrate the church after lockdown – new growth, but in a different way, on a firm foundation'. It's worth a meditational reflection isn't it. What about sitting quietly, gazing into the picture on your screen?
Tomorrow's collect asks of us
Triune God
Jesus prayed that we might be one;
Help us transcend our differences
And find our unity in Jesus Christ our Lord;
Who lives and reigns with you and the Holy Spirit
One God now and forever.
Amen.
I have been blathering to God about how easily we slide into difference rather than togetherness: always forming an opinion, or even judgement, long before all the facts are known. And how easily we exclude ourselves and another from the grace-filled acceptance of difference or individuality. In looking at my neighbourhood and scanning Dundee from so many angles whilst walking. I realise that each home, each family, each person is created uniquely, according to God's plan! Our Zoom and telephone chats reveal the same. That is the space in which grace can and does co-operate. I ask us each to pray that we hold off judgement and see situations and another as Jesus would, and in that relationship we nourish, support and allow others to become themselves, as Jesus did. Richard Rohr and many others describe this immediate assessment separates us from God, calling it 'dualistic' thinking. As Jesus shows us, we can catch ourselves in the act and simply leave judgement out of our meeting spaces. Indeed, in our relationship with God too – we are one, inseparable from God, made to receive that flow of nurture, and not separate ourselves away from that.
Flowing from this thought, I'm considering the pressing question of what things (and in church) will look like, as we ease out of lockdown. It demands new thinking and movement. We are holding a clergy and lay reader meeting to discuss just that, this Friday. Our vestry secretaries have outlined our activities, in community, and in serving others in need, and therefore, 'different'. I'm so proud that we have established such ties ecumenically, and in helping those in need. It will remain foundational to our outreach and community ministry, even to growing the church.
I hope that God graces us by allowing us to deepen and strengthen what we already have in place, and celebrate the interesting creative ideas coming out of last week's challenge of new ideas and input flowing from the questions posed in the previous email. The Zoom meeting was held without me, as I was entrapped in getting home from Perth and that business I had to attend to. Delightfully, many marvellous ideas were forthcoming and a good time was had by all. Here are the questions again, so that you can give us your input, via email, or even a call if you like:
☆New services and times... midweek? What service? Shared or alternating between the 2 churches? Different venue?
☆ A retreat – a day/weekend.. where?
* Social activities... a walk, a picnic, a tea in a garden, a venue (a garden centre?) Tentsmuir.
???
☆ different groups... either by extending or a new target group... how to contact them.... where are they? Whether you'd like to be involved or pray as we go there....
☆ Any courses or themes you'd like to follow? A bible study? (which book?) A coffee get together? At home, at church, where? When.. morning afternoon evening?
☆New places to advertise
Some new questions for your consideration please:
# what gatherings can we 'do' via Zoom, if it's difficult for us to meet?
# would you like us to develop services online service/sermon/ prayer/workshop/ topic for reflection, so that you could watch them at your convenience, in your own home?
# Several members have said that their families have got them using Zoom for chats, quizzes and even gatherings like birthdays. Would you let me know if you are now on Zoom?

# Others say they now have cellphones – please give me your number, and we could have a wassap chat or video.
The lovely telephone chats I am having with you are wonderful sharing spaces. Though it's sometimes difficult to put face to voice should we meet on a walk, it's a great comfort to me to have that connection and level of easy sharing. Faith circles become contextual if we talk about things topmost in our minds. I am aware that you are all bravely moving along, but also aware that lockdown takes each of us differently, from day to day, and from person to person.
Readings for the week are:
SUNDAY | Acts 1: 6 to 14 | Psalm 68: 1 to 11 | 1 Peter 4: 12 to 145: 6 to 11 | John 17: 1 to 11
MONDAY | Acts 19: 1 to 10 | Psalm 68: 1 to 6 | John 16: 19 to 33
TUESDAY | Acts 20: 17 to 27 | Psalm 68: 7 to 20 | John 17: 1 to 11a
WEDNESDAY | Acts 20: 28 to 38 | Psalm 68: 28 to 35 | John 17: 11b to 19
THURSDAY | Acts 22: 30, 23: 6 to 11 | Psalm 16 | John 17: 20 to 26
FRIDAY | Acts 25: 13 to 21 | Psalm 103: 1 to 2; 19 to 22 | John 21: 15 to 19
SATURDAY | Acts 28: 16 to 20 | Psalm 11 | John 21: 20 to 25
So, prayers for you this week are: that you feel the indwelling presence of God in all you do; that you and your family are safe, loving, accepting and happy; that you witness and share the growth of the people of God in new and exciting ways, and that your world as we move towards Pentecost is as pink as our lovely flowers, darkening to red in this coming week!
Yours in Christ
Kathy
Dear sisters and brothers in Christ
How have you been this week? Many of us are feeling the constraints of another 3 weeks of lockdown, aren't we? It's that longing to get into the familiar structures and routines, as well as having the freedom to make daily choices. Above all, to be with family and friends! There is a niggling feeling raising the question of what is it going to be like, and how misshapen the familiar might become!
So we journey with the early church, in its own adjustments. The early disciples must have experienced the dead ends and re-configuring our world is faced with. And, they must have felt frustration. However, the living memory of Christ was with them, making some sort of sense of the days. They relied more and more on their new group of Christian friends for sustenance. I can identify with all the above… it is our group of believers who are becoming foremost friends, as they offer spiritual comfort, and joy; meaningfulness and assurance. It's not about gathering at church on a Sunday, but more about how God's presence is deepening and suffusing our friendship, with brightness, comfort and direction. This newness in relationship will surely bond us strongly as we journey on.
The disciples were encountering Jesus, and this was their topic – Jesus' appearance and the peace and grace that he alone offers, linking the Jesus they knew with the Jesus of the encounter, and the revelation that Jesus would soon leave them in physical person. It was witnessed by Jesus' new friends and disciples, on a mountaintop. Not any disciples, but his closest Peter, James and John, not on any mountain but probably on Mount Horeb/Sinai, where the Law had been given to Moses. They saw Jesus linked in conversation with the prophets, Jesus talking to God, his father, and Jesus departing.
What would your translation of this be, in your own life right now? Some points for prayer and reflection:
Are we willing to accompany Jesus to the mountain?
What is our own present frame of reference?
What do we feel as Jesus leaves us?
What is this Holy Spirit that will come to us?
Are we still in spiritual lockdown?
Or, are we ready for the newness which the Holy Spirit along brings?-
Shall we enter the next few days pondering our relationship with Jesus, both in the past, and now at a critical faith point? Can and how could we be receptive to a new current of thinking, processing, doing?
We started our Zoom conversation on Wednesday recounting our personal relationship with God, our 'conversion point'. I wonder what yours is? We realised how much our background colours our faith walk, and I could celebrate how distinctively different we are, in both experience and tradition.
Let's use this time to look at our church anew! May I ask you to consider, whilst we remain in quiet lockdown, where God might be nudging our churches?
☆New services and times... midweek? What service? Shared or alternating between the 2 churches? Different venue?
☆ A retreat – a day/weekend.. where?
* Social activities... a walk, a picnic, a tea in a garden, a venue (a garden centre?) Tentsmuir....
???
☆ different groups... either by extending or a new target group... how to contact them.... where are they? Whether you'd like to be involved or pray as we go there....
☆ Any courses or themes you'd like to follow? A bible study? (which book?) A coffee get together? At home, at church, where? When.. morning afternoon evening?
☆New places to advertise
☆ It's a given that the strong ecumenical links are nourishing, and sustained. However if there's a new initiative to add on, great!
☆If you'd like to put your thoughts on an email beforehand, fine, but let's explore now!
READINGS FOR THE WEEK
SUNDAY
COLLECT: O God, you reveal yourself in love;
Pour into our hearts such love towards you
That we, loving you in all things and above all things,
May obtain your promises,
Through Jesus Christ our Lord,
Who lives and reigns with you and the Holy Spirit,
One God, now and ever.
Amen
Acts 17: 22 – 31. Psalm 66: 7 to 19. 1 Peter 3; 13 to 22. John 14: 15 to 21
MONDAY | Acts16: 11 to 15. Psalm 149. John 15: 26 to 16: 4a.
TUESDAY | Acts 16: 16 to 34. Psalm 138. John 16: 4b to 11
WEDNESDAY | Acts 17: 15, 22 to 18: 8. Psalm 148. John 16: 12 to 20
THURSDAY ASCENSION DAY | Acts 1; 1 –to 11. Psalm 47/93. Ephesians 1: 15 to 23. Luke 24: 44 to 53
FRIDAY | Acts 18: 9 to 18. Psalm 47: 1 to 6. John 16: 20 to 24
SATURDAY | Acts 18: 23 to 28. Psalm 47: 1, 2and 7 to 10. John 16; 23b to 28
'See you' tomorrow in St Mary's for Eucharist and at St Margaret's on Thursday at 3pm in St Margaret's, Tayport.
May the spirit of the living Christ be with you!
Kathy
Beloved in Christ
I wonder what consolations the past week has delivered at the doorstep of your heart, this week. From the sound of those in our Zoom discussion, it seems as if most felt that lockdown has been a healthy, life-giving period: yet I know of many who are now steeped in despondency. That is what Ignatius describes as desolation. It is deep and dark and we have all touched that reality at some stage, hopefully not now. Yet, according to those who guide us, desolation, once accepted, is the time for real self understanding and knowledge, a time to re-assess and re- grow, The extremes and way in which we move from one to another, consolation and desolation, might sound like a different turn of phrase but in fact it is Ignatian.
In clergy discussions and in our Wednesday Zoom meetings, I re-introduced Elizabeth Kubler Ross' 5 stages of dying: anger, rejection, bargaining, depression and ultimately, acceptance. Be kind and gentle with yourself as you reflect on where you are on the scale, and where is the grief cycle you have spent time. What I do know is that God is wherever we are, closer than our breath, and seeing us as the 'apple of God's eye' God's Imago Dei. I also know that there are some, maybe many, who we can reach out and be as Christ to them, giving assurance and comfort. Keep some of that for yourself.
It is leaftime early summer and this season is very beautiful, and invitational. Let us grow deeper roots and support those who need, like the beech trees, to cling to sloped ground, and, once rooted, stay stable. Just look at the magnificent rootedness in the attachment!
I will be at St Margaret's tomorrow and love our Eucharist and time together. Soon, soon we shall meet. I almost wept when I saw church in action once again, in Germany.
I'm delighted with the way Zoom is enabling us. St Mary's, set up by Betty, had their first, very satisfying vestry meeting, and the Wednesday group met, discussing Elizabeth Kubler Ross and how that impacts on our status quo. We all desire the group to enlarge, as each of us make a difference to one another. I certainly felt nourished and enriched, having see your faces once again, and learned from your wisdom. I'm aslo delighted that these weekly emails are on our respective websites! Well done Christine and Betty!
Hoping too that you are enjoying the SEC Sunday Eucharists. I thought our Primus was wonderful, talking about his crozier as something to lean on whilst he blathered to others. I just love that picture. I also picked up his Monday brief reflection on Youtube. We have great praying joyful and real leaders!
Tomorrow, Sunday: Acts 7: 55 to 60; psalm 31: 1 to 5 and 17 and 18; 1 Peter 2: 2 to 10; John 14: 1 to 14. See you from St Margaret's and know you are prayed for! Follow the SEC online service at the same time.
A lovely Collect you could pray this week is:
Eternal God, your son Jesus Christ
is the way, the truth ad the life for all creation:
Grant us Grace to walk in his way
Rejoice in his truth, and share his risen life;
who lives and reigns with you and the Holy Spirit,
one God, now and forever.
Amen,
MONDAY | Acts 14: 5 to 18 | Psalm 115:1 to 11 | John 14: 21 to 26
TUESDAY | Acts 14: 19 to 27 | Psalm 145: 10 to 13, 21 | John 14: 27 to 31a
WEDNESDAY | Acts 15: 1 to 6 | Psalm 122 | John 15: 1 to 8
THURSDAY | Acts 15: 7 to 21 | Psalm 96: 1 to 3, 10 to 13 | John 15: 9 to 11
FRIDAY | Acts 15: 22 to 31 | Psalm 57: 6 to 12 | John 15: 12 to 17
SATURDAY | Acts 16: 1 to 10 | Psalm 100 | John 15: 18 to 21
Let's be reminded of Jesus' own words,'No one puts new wine into old wineskins; if they do, the skin will burst, and the wineskins will be ruined. No, they pour new wine into new wineskins, and both are kept in good condition.' Let us help each other to make newness and healthiness!
Grace and peace
Kathy
Beloved in Christ
I've just been chatting to some parishioners, and laughingly commented that the first topic of conversation is the weather, and so it should be, as it is changeable and directly affects us! All in the midst of spring... I'd forgotten how nature's episodes show off the snowdrops, then daffodils, then bluebells, then buttercups, nettles ----- and it's so with us - God is revealing seasonal changes in us, and we are always taken by surprise by the renewing season of feeling change, and warmth in our spirits. We are on our way to Pentecost, aren't we? I pray that your encounters with the resurrected real Jesus are sustaining you, and maybe giving you new insights. St Augustine said that we are spiritual beings on an earthly journey. Let us live into that and be sure that every day we are attending to the spiritual garden God is now giving us time to potter around in!
ZOOM conversations on Wednesday meetings at 8pm are wonderful: last week we looked at how to 'do' church when we come out of lockdown: we started to picture ourselves arriving, listening to scripture and exploring God's new way of being not do-ing in a changed world, preparing for communion and partaking in it, (not to forget taking collection). Next week we return to a more spiritual, reflective focus and discussion. We need that spiritual nourishment. We have decided to open our link to anyone you would recommend joining. Fresh insight is so valuable, and refreshing.
WEBSITES: Christine and Betty have added to our internet pages - do take a look at stmaryschurchnewportontay.org and stmargarettayport.org. It's great that we are sharing photos and these newsletters. It would be marvelous to have some overseas interest in joining Zoom!
SERVICES I hope you are enjoying the Episcopal video of the Eucharist on Sundays at 11 (or you can watch them later at your convenience). By the way a lot of people are enjoying the flexibility of worship, during this lockdown. I continue to celebrate the Eucharist, tomorrow at 11 at St Mary's. You will see some photos of St Margaret's last week. I was very moved to look from the altar at the empty church, and longed for you to take up your usual places! It is a beautiful experience for me, and I am aware of your presence, and pray for each of you. Do join me once again. In the afternoon at 4, I have another dedicated prayer and healing service, and have decided rather to hold that at home, than to transgress the law and go out again in a day. Light your little candle and join me.
READINGS. Are you enjoying the Eucharist readings - I think we should keep to them throughout our green Easter season.
They are
SUNDAY | Acts 2: 42 - 47 | Psalm 23 | 1 Peter 2: 19 - 25 | John 10: 1 - 10
MONDAY | Acts 11;1 - 18 | Psalm 43 | John 10: 22 - 30
TUESDAY | Acts 11; 19 - 26 | Psalm 87 | John 10: 44 - 50
WEDNESDAY | Acts 12: 24 - 13:5a | Psalm 67 | John 12 44 to 50
THURSDAY | Acts 13: 13 - 25 | Psalm 89.1-2,19-26 | John 13:16 - 20
FRIDAY | Acts 13: 26 - 33 | Psalm 2 | John 14: 1 - 7
SATURDAY | Acts 13: 44 - 52 | Psalm 98 | John 14: 7 - 14
FACE MASKS That strange picture shows you how well the little masks I made for you work. I made several rows of reinforcing stitches so that they are more durable. Do use them when you shop!Please pray for Steve and Dorothy Lemon, who showed some cv symptoms and are in self isolation.
ENJOY this time - make it God space
Thoughts and prayers
Kathy
Beloved in Christ
Here are last Sunday's photos of our beautiful churches, as I celebrated and prayed: not only each of you, but in seeking God's assurance and guidance as we seek to be together in the future. We all yearn for that sacred companionship.
Tomorrow I will be celebrating the Eucharist at St Margaret's at 11, and then praying in St Mary's round 4pm for an hour. Do join me in spirit. I also hope you are enjoying the Diocesan online service at 11am, or using some other form of worship of your choice.
Thank you for joining in Zoom on Wednesday, in prayer or in person. Here is the link for you to join up or forward to friends - regardless of creed, religion, or place. We can spread the net wider with the wonders of technology. On reflection I wondered whether this global community is gathering in this new way, right across the globe. Let's do this here! Perhaps your family further afield would like to join us? Next week I am planning a reflection (a personal perspective) to start our discussion and prayer. It was special to meet face to face, and lovely to have the whole Sage family and doggie present on the screen for the hour. (I'll send the invitation to next week's Zoom link separately, forwarded from Niki)
Here are next week's readings
Sunday - Acts 2: 14a, 36 to 41; Psalm 116: 1 to 4, 11 to 18; 1 Peter 1: 17 to 23; Luke 24: 13 to 35
Monday - Acts 6: 8 to 15; Psalm 119: 161 to 168; John 6: 22 to 29
Tuesday - Acts 7: 51 to 8: 1a; Psalm 31 : 1 to 5; John 6: 30 to 35
Wednesday - Acts 8: 1b to 8; Psalm 66: 1 to 6; John 6: 35 to 40
Thursday - Acts 8: 26 to 40; Psalm 66: 7 to 8, 15 to 19; John 6: 44 to 51
Friday - Acts 9: 1 to 20; Psalm 132; John 6: 52 to 59
Saturday - Acts 9: 31 to 42; Psalm 116: 11 to 18; John 6: 60 to 69
Once again, I extend the invitation to stay in touch and phone or email me in any need
Yours, in the risen Lord
Kathy
St Margaret's Easter Card 2020
Beloved in Christ
I am very aware of the vitality of Palm Sunday in our Christian calendar.
I wonder how your Lenten journey has been, with its sudden deviation into new ways of accepting living with social distancing, empty streets and often away from those we love and rely on as integral parts of our lives. Many working people have lost jobs and purpose... many we love are imperiled. We are in grief in its stages of anger, denial, bartering and then, ultimately, acceptance.
In addition there is too much information and inspiration on hand. Technology has leapt into new dimensions- we are intimidated by the panoply of choice.
We have set up this email communication, to re-plant us in our sustaining church community, and to keep together and share.
Lets turn to PALM SUNDAY READINGS
Isaiah 15: 4-9a
Psalm 31:9-18
Philippians 2:5-11
Matthew 26: 11 to 54 (remember the Passion readings?)
*Jesus knew what was to come. We don't!
*Jesus nevertheless knew what he had to do. We do, mostly!
*Jesus knew that God's plan was for him to show the way to salvation. Do we know what God is asking us to do right now? Are we listening?
*Jesus accepted the honour, joy and celebrations,without being swayed by them.. this is discernment in the face of worldly opinions.
*Jesus is the model of humility..... are we?
If we just STAY with these thoughts as we reflect, and steep ourselves in that peace that passes all understanding, then the waves of outer noise and emotion give way to the currents running, just as our River Tay illustrates, under the surface turmoil.
And then, that deep underwater stillness holds us steady.
We are a people of faith, YOU are God's chosen one, with a particular purpose and LOVED. (Ephesians1: 5 although, better, 1.15)
NOW is the time to talk to God about these things, for you are a LOVED new creation (2 Corinthians 5: 17)
Perhaps this is what this Easter is guiding us to...
The collect is:
Eternal father
Your son our saviour fulfilled your will
By taking our nature and giving his life for us.
Help us to follow the example of his humility
By walking I the way of the cross;
through the same Jesus Christ our Lord,
who lives and reigns with you and the Hily Spirit, one God, now and forever. Amen.
(taken from the South African lectionary).
Do have a look at the links I sent you in the last email for 'live' services and do share if you have others... Frank, thank you for your prayers sent!
SUGGESTION
MAKE A PALM CROSS from your garden shrubbery, and pin it to your front door or gate. This is for you, your household and a witness to those walking by. I am going to do this and will send you a pic. Then at first light on Easter Sunday(or after your Saturday evening devotions), I'm stringing lights through them!
Lastly, what about playing and singing and praying a HYMN, like 'Ride on, ride on in majesty' https://youtu.be/MD9rMkIS1yw
Yours in humility and joy.
I will send you some thoughts on holy week soon.
BE BLESSED AS YOU ARE A BLESSING TO OTHERS
Kathy
An official greeting from Kathy Barrable
Beloved in Christ
This day, the 24th March 2020, I'm formally your Priest-in-Charge, and I am filled with joyful anticipation. God has worked the whole miracle and blessings have flowed, ever since I attended St Margaret's almost two years ago, and returned home saying, 'I love the people and this place - I could live here - even without you precious family!' And when I attended a joint meeting at St Mary's the circle grew wider, and now it is here like a jewel to behold. I promise to serve God, you and the churches to the best of my ability, and with that same faith hope and love which is ours to share and explore.
So, not being able to meet you yet, I plan to phone those who are not on email, and give you my phone number, 07552 503895, so that we can open doors to talk, plan, share and dream. Our chats should be broad..... how you are coping, what you are thinking, any birthdays or special news, questions and answers, and whatever affects our wellbeing. (This morning I have learned about gardening and that it's still too cool to sow seeds yet.) I am sure you will be able to help me in these practical ways - what can I do for you?
I will send you weekly emails, and a Sunday sermon, readings for the week, as well as some interesting connections for you to listen to: I hope you will feed back, as to what is on your mind.
I know a number of us are in the vulnerable group, and to you specially, if there is any help you need, let us know.
I wonder if anyone has contact with an an IT boff, who could possible help us record a sermon, and get us linked somehow.
Perhaps you would think its a good idea to share a communion which I would have, and you be with me in prayer at the same time? Perhaps 10 on a Sunday morning? (I will celebrate the Eucharist then) and join me at 6pm, in evening prayer - said evensong on a Sunday night, and daily morning prayer at 7.30am:
Today's Eucharist readings are Ezekiel 47, 1-9 and 12; Psalm 46; and John 5 1-18. Lovely question Jesus poses: do you WANT to be healed?
Morning and evening prayers are:
Today, Tuesday Jeremiah 16: 10-21; Romans 7; 13-25; John 6: 16-27
Wednesday Jeremiah 17.10:19 -18:12; Romans 8 1-11; John 6: 16-27.
Thursday Jeremiah 22: 13-23. Romans 8: 12-27; John 6: 41-51
Friday Jeremiah 23 1-8; Romans 8:28-39; John 6: 52-59
Saturday Jeremiah 23:9-32; 1 Romans 9: 1-18; John 6: 60-71
I know we have a lot of resources being worked on and shared, and I'll send them to you as they come. With so much available, just select what you would enjoy, keeping it manageable, nourishing and digestible!
Some starters: this is a wonderful time for deepening our prayer life, and whilst there are endless ideas on youtube, one I recommend is 'Prayer: Rowan Williams, (other helpful instructive podcasts like 'Encountering God' and so on...) He is eloquent and keeps his message accessible and practical.
I've recently become more interested in the field of Ecotheology, and discovered Michael Dowd, American minister and author, in his series called, 'Post Doom Conversations', in which he chats to a number of eminent people, and exchanges views. Perhaps you would enjoy those?
And of course, my all time default, Richard Rohr. Any of his books or youtube recordings.
In the mean time, let us love one another as Jesus' disciples, and live joyfully in these time, eve grateful for our blessings.
Peace and grace
Kathy Barrable
120th anniversary of St Margaret's
On Sunday 20th November 2016 St Margaret's Episcopal Church, Tayport, celebrated its 120th anniversary at a special service, led by Rev Jim Thomson, in honour of the church's patron saint, Queen Margaret of Scotland. The congregation of St Margaret's were joined in this celebration by their friends from St Mary's Episcopal Church, Newport-on-Tay. The organist was Iain Flett, and we were also treated to some fine violin music by his daughter Elisabeth.